7 Best Washing Machines For Off-Grid for 2023
Moving Off-grid is perhaps one of the best decisions you made for your home, family, and the world at large. The move to solar energy will also change the type of appliances you use at home. You will want to buy products that are able to function on an off-grid power system, consume less power yet deliver reasonable performance.
When it comes to washing machines, you will need an appliance that uses less water, runs on least amount of electricity, and extracts most of the water out of clothes during a spin cycle. Other factors include good cleaning of clothes, durable framework, and low maintenance.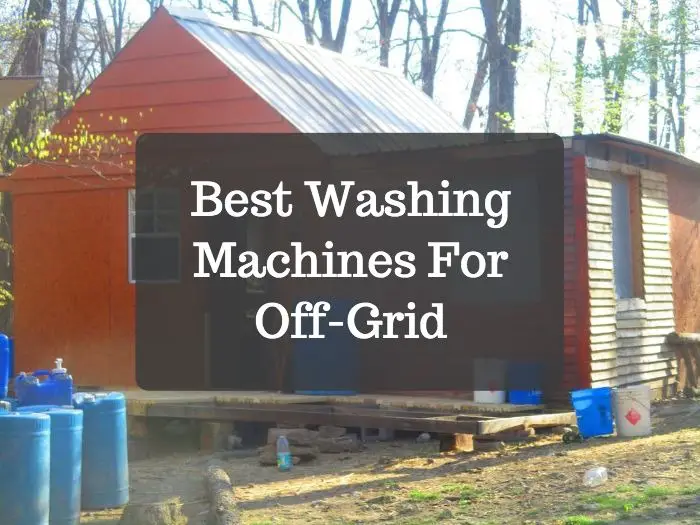 If you are in the market looking for the best washing machine for off grid, you will be presented with many options to confuse you. Take a long breath and relax, because our team has done the homework for you. We have handpicked some of the best washing machines suitable for Off-grid homes.
After reviewing many products available online, we feel that Portable washer by VCJ (see Amazon) is a great choice as it allows you to wash as well as spin-dry clothes. Thus, you get a performance close to a traditional washing machine without spending that much money or energy. Those who want a quick fix while camping may get Laundreez Clothes Washer that does a good job at cleaning.
| | | | | | | | |
| --- | --- | --- | --- | --- | --- | --- | --- |
| Features | Tonha Washing Machine | EasyGo Products Washing Wand | The Laundry Alternative Wonderwash | Mojoco Foldable Washing machine | VCJ Washer | Laundreez Clothes Washer | Scrubba Wash Bag |
| Dimensions | 18.3 x 6.7 x 6.7 inches | 8.3 x 8.3 x 7.8 inches | 16 x 12 x 12 inches | 31″H x 19″W | 13.5 x13.5 x13.5 inches | 3.2 x 12 x 1.8 inches | 21.3 x 0.2 x 12.6 inches |
| Weight | 6.6 pounds | 1.87 pounds | 5.5 pounds | 10 pounds | 5 pounds | NA | less than 5 oz |
| Type | Travel & Outdoor Electric | Camping / travel | Non-electric | Non-electric | Non-Electric | Non-Electric | Camping |
| Material | Safety plastic | Corrosion-free plastic | Plastic | Plastic | Plastic | Plastic bag | Microbial polyether TPU |
| Time needed | 15 mins | NA | 1 to 2 mins | 20 mins | 5 mins | 10-15 mins | 3 minutes |
| Power | 190 W | NA | NA | NA | NA | NA | NA |
| Voltage | 110 V | NA | 120 V | NA | NA | NA | NA |
| Water use | NA | 10 gallons | NA | 10 gallons | 6 gallons | 6 litres | NA |
| Load capacity | NA | NA | 5lb | NA | 5 pounds of clothes | NA | 3 shirts |
---
If you travel frequently and hate doing the laundry, here's a Tonha portable washing machine that you can carry with you anywhere. Made from safe and high-quality materials, this one-piece mini washer comes with a waterproof switch and a stainless steel screw. The well-insulated power cord is flame-retardant, safe, and waterproof. It not only performs well off-grid but also saves you a lot of time and money on electricity bills.
Operating this portable mini washer is extremely easy as you just need to fill a bucket up to the minimum mark and place the appliance inside it with the help of a clamp. Now, add detergent to the water and switch on the machine. After the 5-minutes wash cycle, your clothes will be ready to rinse and dry. You just need to be careful to not overload the bucket for the machine to run smoothly. This is a perfect gift for singles, bachelors, and those living in hostels.
Product features and specifications
Weighs 6.6 pounds
110 Voltage use
Requires 190W Power
Take 1-15 minute time control
Washes 4 different types of clothes
5-minutes wash cycle
Max clothes up to 5lbs
Lightweight and portable
100% customer satisfaction
User/ Customer reviews
People are happy to find a washing machine they can carry with them on business trips or give to their kids staying at college dorms. Users have mentioned that the product does a good job as advertised, and is pretty easy to use as well. A few users have pointed out a few shortcomings such as lack of an inbuilt timer, not fit for all buckets, too noisy, no instructions included in the package and so on.
Conclusion
If you are looking for a washer you can stack in your luggage and carry with you on business trips or vacations, this product by Tonha does a fair job. The unique design and amazing performance make it a product worth buying.
---
Love hand-washed clothes but hate washing with your hands? Use this portable washing wand by EasyGoProducts that stands second in our list of best washing machines for off-grid. Made from 100% waterproof and corrosion-proof plastic material, this mini appliance is designed to last, without bending, warping, or splintering with use. We love how easy it is to use the product by simply filling a 5 gallon bucket with water and then adding laundry detergent to it. Place the washing wand on top of the clothes and with just a pull-up activating mechanism, you can get clean clothes within minutes.
The cleaning mechanism of the washing wand pushes and sucks water through the clothes to enable thorough cleaning. The unit includes an ergonomically designed shovel-style handle that enables you to use the washer without having to bend over the bucket. Our team was also impressed to find that the machine uses only 10 gallons or less water compared to about 40 gallons per cycle for standard washing machines.
Product features and specifications
Measures 8.3 x 8.3 x 7.8 inches
Weighs 1.87 pounds
Non-electric
Compact size
Easy storage
100% waterproof
Effortless operation
User/ customer reviews
Most people who have used the portable washer have good things to say about it because the unit saves the labor and time spent in manually hand washing clothes. Some people are happy to be able to stand and wash their clothes, thus save their backs. Others are pleased to do bucket loads of clothes with much less water than usually needed and get the work done faster. In a few cases, it broke after some months of use, leaving the users disappointed.
Conclusion
If you travel often or need a portable washer for your RV, this product is a great choice. It also works well for singles, bachelors, and college students. Those who don't like working with soapy water or rubbing with hands will love this product. Overall, we feel this washing wand meets the criteria for the best washing machine for off-grid.
---
Love traveling in your RV but hate doing the laundry? We found this portable and non-electric mini washing machine from the house of The Laundry Alternative. We instantly fell in love with the cute and compact exterior, but we were more happy to discover that despite being tiny, it is capable of washing a 5-lb. load in just a few minutes. The E-Z lid lever is intelligently designed and much easier to use. This hand-crank unit is perfect for singles, bachelors, college students or people living in small apartments, boats, and RVs.
The washer unit works great for washing delicate clothes such as silk, woolens, cashmere garments, and knitted dresses. It also uses considerably less water for handwashing and saves electricity bills. It's a perfect fit for off-grid homes. Our team was impressed to find that the manufacturer stands behind the product with a solid 3-year warranty, so this is a no-risk purchase.
Product features and specifications
Measures 16 x 12 x 12 inches
Weighs 5.5 pounds
Top load
120 volts voltage
Non-electric
Made of safe plastic
E-Z lid lever
3-year warranty
Good for delicate clothes
User/ customer reviews
Most users are happy to be able to say goodbye to the dirty laundry room with the help of this little washer that is easy to use and holds a lot of clothes. A few customers have expressed their dissatisfaction but this greatly depends on how you use the product. If you spin slowly, your clothes are slammed through hot soapy water 60 times a minute. However, if you spin too fast, clothes get to one side and come out wet and dirty.
Conclusion
This is a compact and well-built mini washer which may not be the holy grail but it's certainly worth trying. It's a savior for bachelors and students who hate waiting for the laundry machine to get empty. Although the base is slightly wobbly and the drain hose pops up with water pressure, this mini washer delivers good performance at this price.
---
If you are looking for a portable clothes washer that can clean jeans and sweatshirts then check out the Mojoco Foldable Washing Machine. The patented design of this non-electric and eco-friendly washer has won the hearts of many for saving both power and money. They make the best washing machine for off-grid homes as the machine is completely hand-powered. It is a perfect fit for singles or college students, as it pays itself in a few trips that you don't make to the Laundromat
With this portable washing machine, you will use only a fraction of water and soap otherwise used by standard washing machines. We were impressed by the ease of use and how quickly the machine cleans dirty clothes in less than 20 minutes. As the machine is extremely lightweight, you can carry it with you when you go camping or traveling in your RV. A closer look at the cleaning mechanism and structure reveals that the unit is meticulously engineered for durability and performance.
Product features and specifications   
Made in the USA
Weighs 14 pounds
Portable and lightweight
20-minutes operation time
Eco-friendly
Non-electric
2 patents awarded
Holds 5 gallons basket
Ultra-light and compact
User/ customer review
Most buyers are happy with their purchase as this little washer lets them clean some of the dirtiest clothes with great ease. Some people have successfully cleaned their dog's bedding, garden gloves, and even workout clothes in it. A few users have mentioned that no matter how hard you push down on the basket, the clothes will come out very wet, so you may want to invest in an electric spin dryer to speed things up.
Conclusion
If you are looking for a solid manual clothes washer that cleans tough fabric with ease, this product by Mojoco is built to perform. Some people may complain about clothes not drying enough, but then this product is meant to wash only. You get what you pay for and much more.
---
Owners of portable washers often complain about the machine's inability to dry, hence we bring for you this portable washer and dryer combo by VCJ . This 2-in-1 unit includes a hand-powered machine and also a spin dryer. To switch from one to the other, you will simply need to move the pulsator to the basket. It comes with two rotatable and foldable handles that save labor while washing and make it easier to spin dry wet clothes.
The compact design of the washer makes it highly portable and easy to carry with you wherever you go. Whether you live in a small apartment, off-grid home, dorm, or hostel, this washer will save you from going to the Laundromat every weekend. You can now wash your clothes at home while saving water, detergent, and electricity too. Please note that the washer is perfectly suited for baby clothes, hand washables, diapers, silks, knitted dresses, and woolens.
Product features and specifications
13.5-inches in diameter and height
Weighs 6.85 pounds
2-in-1 machine
Compact design
Manual use, non-electric
Washes 5 pounds clothes in 5 minutes
Users/ Customers reviews
People are elated to find a perfect combination of washer and spin dryer that saves them from going to the Laundromat even in snowstorms and also from hanging wet clothes inside the house. A few users have mentioned that this product is suitable only for people who have good upper body strength so this is something you may want to consider. Customers are also pleased with the capacity this little thing can hold and noiseless operation, but it can be shaky while spinning.
Conclusion
This small machine is brilliantly designed to help you wash daily wears and delicate clothes without using a lot of water and no electricity at all. Hence, this is a wise investment for people living in off-grid homes. All in all, this product stands as a solid contender for the title of best washing machine for off grid.
---
As per the manufacturer's description, the Laundreez Portable Clothes Washer was designed keeping in mind the specific needs of the travelers. It is the perfect tool for anyone who loves to travel but likes carrying less stuff. This portable washer gives users the freedom to wash dirty clothes on the go. This saves you from the expensive bills of hotel laundry, and time spent in waiting for empty machines at Laundromat. People living in off-grid homes also find this a reasonable option to clean clothes without using electricity.
The compact unit comprises a dry bag with a twist cap, water carrier, packing bag, and cooler bag. It can carry up to 6 liters of water and clean multiple clothes with ease. It can also be used as a versatile bag to keep wet and dirty clothes separately. The unit uses water efficiently without splashing it around and the smooth interiors do not harm your clothes. It can be folded and carried easily in a backpack.
Product and specifications
Measures 3.2 x 12 x 1.8 inches
Weighs 12 ounces
Waterproof bag
Robust and durable
Up to 6 liters of water
Versatile packing bag
Users/ Customers reviews
Many people who have used this product said that it worked as advertised and helped them clean a few important clothes while traveling. Some users have also mentioned that it helped them save money as they didn't have to use hotel laundry or go to a Laundromat. A few users have cautioned that it works well while it lasts but the construction is not durable enough.
Conclusion
If you are looking for a quick fix to wash a few essential clothes while traveling or when you don't want to run your appliance for a few socks and undergarments, this product comes in handy. It saves water and the inner mesh does a good job at cleaning. However, it cannot be relied on as the only washer at home because it cannot handle too many clothes or rough use.
---
When you want a washer portable enough to carry with you in a backpack, the Scrubba Wash Bag comes across as a smart solution. Designed to meet the needs of campers, hikers, and backpackers, this product is a contemporary version of the old fashioned washboard. Our team was impressed with the machine-like performance and the ability to use it anywhere. If you are looking to save energy in your off-grid home, this wash bag is a must-have for you.
Made from high-grade microbial and hydrolysis-resistant polyether material, it has hundreds of Scrubba nodules on the inside that help in cleaning the dirty clothes thoroughly. It gives you clean and fresh-smelling clothes in minutes. It also serves as an efficient dry bag. Weighing less than 5 oz, this is perhaps the smallest and lightest washer in the world.
Product features and specifications
Measures 21.3 x 0.2 x 12.6 inches
Weighs 5 ounces
Microbial and hydrolysis resistant polyether TPU
Washes in 3 minutes
Doubles as a dry bag
Folds down to pocket size
5-step washing
User/ customer reviews
People who travel often find this product useful as they can carry it along without having to hunt for a Laundromat or clean in a sink. Users were happy to be able to clean their dirty clothes while traveling and even use it as a laundry bag to keep used dirty clothes until they had the time to clean. Some unhappy customers have cautioned about the product falling apart after a few uses.
Conclusion
This is a well-made product and we are impressed with the mechanism that gives clean clothes to wear even while on a holiday. However, this is not a durable product, and certainly not something you can use every day. Overall, good for light use, mostly while traveling or as an emergency during a power outage or when you wish to save energy.
---
 Related Questions
How much power does a standard washer machine consume?
A typical washer uses about 400-1300 watts, while the Energy Star rated appliances consume only 500 watts. An off-grid electric-powered washing machine would consume about 140-200 watt-hours per load.
How to dry clothes with a non-electric washer?
If you are using one of the above mentioned non-electric washers, consider buying a manual wringer that will do a good job at making your clothes dryer and even work out your arms muscles. Build your own clothes drying rack or hang them outdoors to air dry.
Related Articles:
4 Laundry Detergent Options For Expensive Clothes
5 Best Washing Machines Options For Cloth Diapers
Can You Wash Blanket In a 6kg Washing Machine?