Well, just like in other things, there is a regular washing machine, and then there is the best washing machine with steam that provides better results. The specially designed washers combine the benefits of water and steam in various cycles to improve the laundry job in numerous ways.
Steam works as a catalyst to increase the temperature of the water inside the drum and causing the fibers to absorb water more efficiently. This helps the detergent dissolve quickly, remove the stubborn stains, and clean better in higher temperatures, killing bacteria too.
Thus, a washing machine with steam not only improves the basic functionality of the unit but also provides extra benefits, For example, it also works as a wrinkle reducer for cloth fibers so that your cotton shirts and dresses come out less wrinkly even after the spin cycle.
Quick Summary
The Samsung High Platinum Front Load Washing Machine with Steam adds style to your laundry room and eliminates steam without pretreating. You can also troubleshoot issues with your smartphone using the Smart Care app.
LG's TurboWash 360 technology lets you wash a large load in less time, and the SmartThinQ technology helps you manage the wash cycles remotely using your smartphone. The steam not only cleans clothes better but also reduces household allergens.
The Electrolux Front Load Washer is known as the most effective stain-removing washer with SmartBoost technology.  9 wash cycles, 5 soil, and spin cycles, along with steam power make this model perfect for all types of fabric.
If you are too lazy to add detergent every time for a load, this Whirlpool front load washing machine with steam is a great option. You just need to load the dispenser with detergent and stay stress-free for up to 20 loads. The steam clean option increases the heat inside the tub to help the detergent penetrate fabrics to remove stains.
Best Washing Machine With Steam: Pros And Cons
The improved wash cycles and higher temperatures enable the washers to unlock a host of benefits to preserve your favorite clothes. However, there are both good sides and bad sides to anything so let's dig a little deeper to unearth the facts.
Pros
In modern homes, there is a trend for a luxury washing machine with steam as they are capable of taking more loads and clan each one thoroughly due to steam technology. Each cloth is sanitized at 171 degrees Fahrenheit.
The high temperature in the washer tub helps to eliminate 99% of germs and bacteria, along with most allergens. People with allergy problems will find the steam washers extremely useful.
Due to high heat and temperature, the trapped bad odors inside the washer tub are released. As a result, they are not locked in the fabric, leaving the clothes smelling fresh and clean.
With a steam washer, you do not need to use a fabric softener separately. It makes your clothes breathe freely and feel softer. It also results in fewer wrinkles and you can remove clothes soon after the wash cycle completes.
Cons
The best washing machine with steam is usually on the higher side when it comes to price. However, you save on electricity as these models can do larger loads quickly and efficiently. Now, let's take a look at the reviews of the top 4 handpicked steam washers.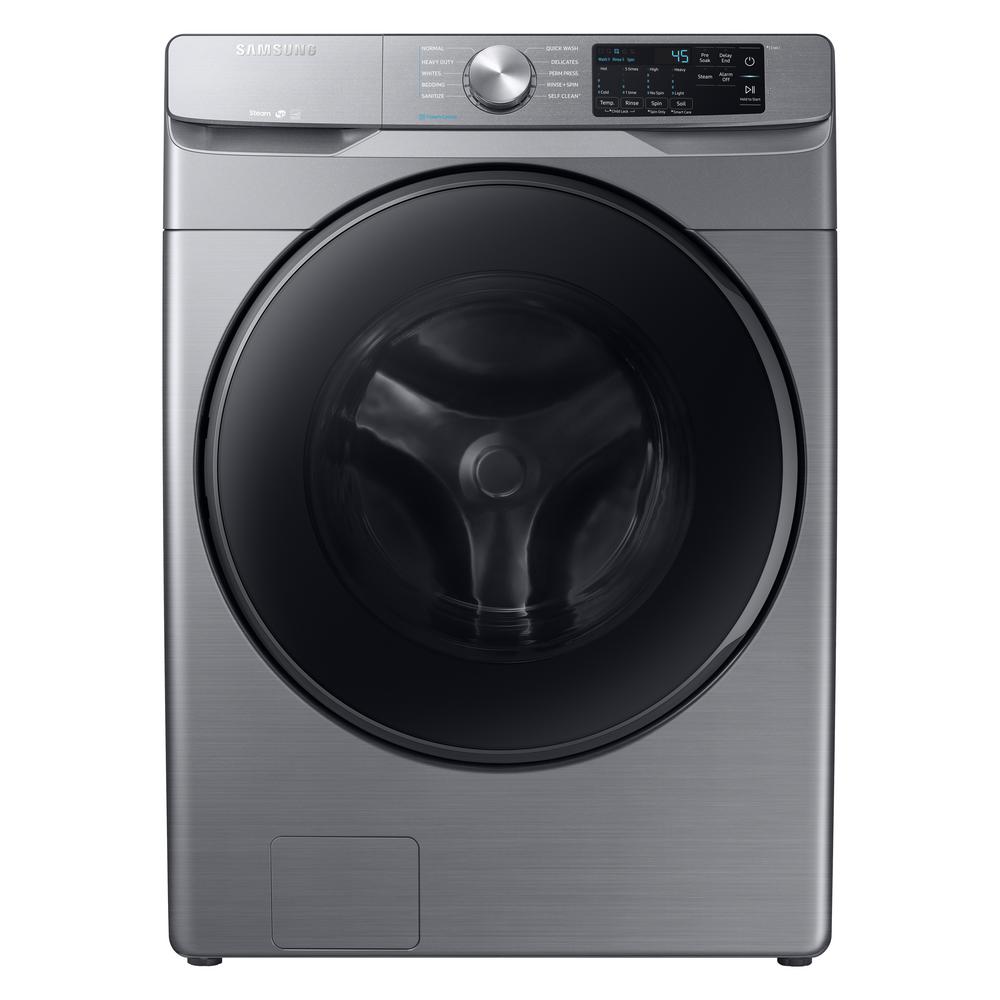 This is a 4.5 cu. ft. capacity front load washer with steam from the house of Samsung, and it's capable of removing dirt and stains without pre-treatment. There are 10 preset washing cycles to meet your washing needs and 7 extra washing options to improve your washing cycle.
We are impressed by the VRT Plus Technology that minimizes noise and vibration to ensure quiet washing. The Self Clean functionality keeps the washing machine drum clean and fresh after use, while the Smart Care feature makes troubleshooting easy from your smartphone.
What we like:
Steam removes even the tough stains gently
Wash more clothes in a single load and have time for things you love
Less noise and vibration ensures quiet washing anytime anyplace
Improved drum pattern helps in extracting more waster during the rinse cycle
Space-saving design gives your washing machine a sleek and contemporary look
What we don't like:
After every wash, some water stays in the machine until you open door for a few hours to dry out
Water leaks to the floor when the door is opened every time after a wash cycle is completed
---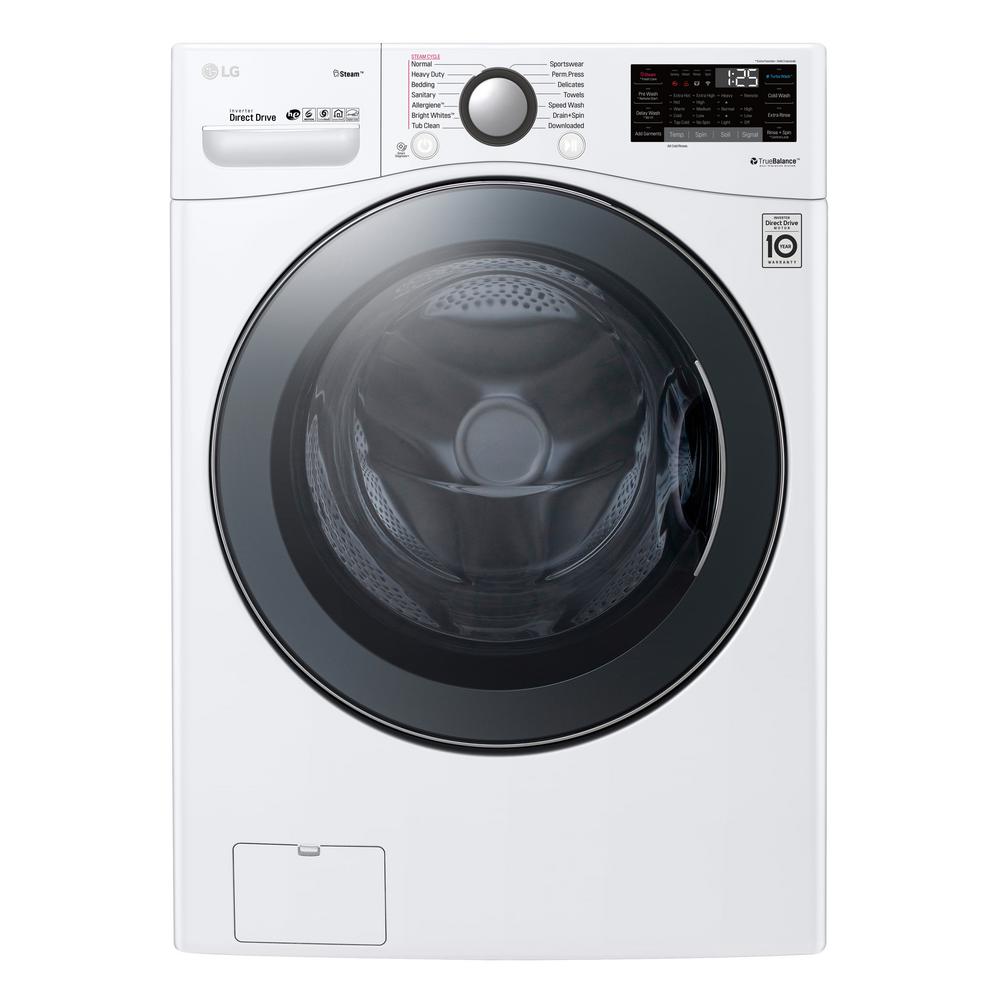 This HE LG washer with steam helps you get more done in less time, thanks to the TurboWash 360 technology. SmartThinQ app allows you to manage the washer remotely, thus takes the stress out of doing your laundry. As it is certified by the Asthma and Allergy Foundation of America, it also lets you breathe easier.
The steam power not only disinfects and cleans clothes better but also removes about 95% of common household allergens. Powered by the 6Motion technology and LG Direct Drive Motor and, it works for all types of fabric and all wash cycles, and even helps in saving energy.
What we like:
Six wash motions to give users a revolutionary cleaning experience
Consumes nearly 30% less energy and half the water
The manufacturer stands behind the motor with a 10-year limited warranty
TrueBalance anti-vibration system reduces washer noise and vibration for quiet performance
What we don't like:
Good for large loads but gives error messages for smaller ones
---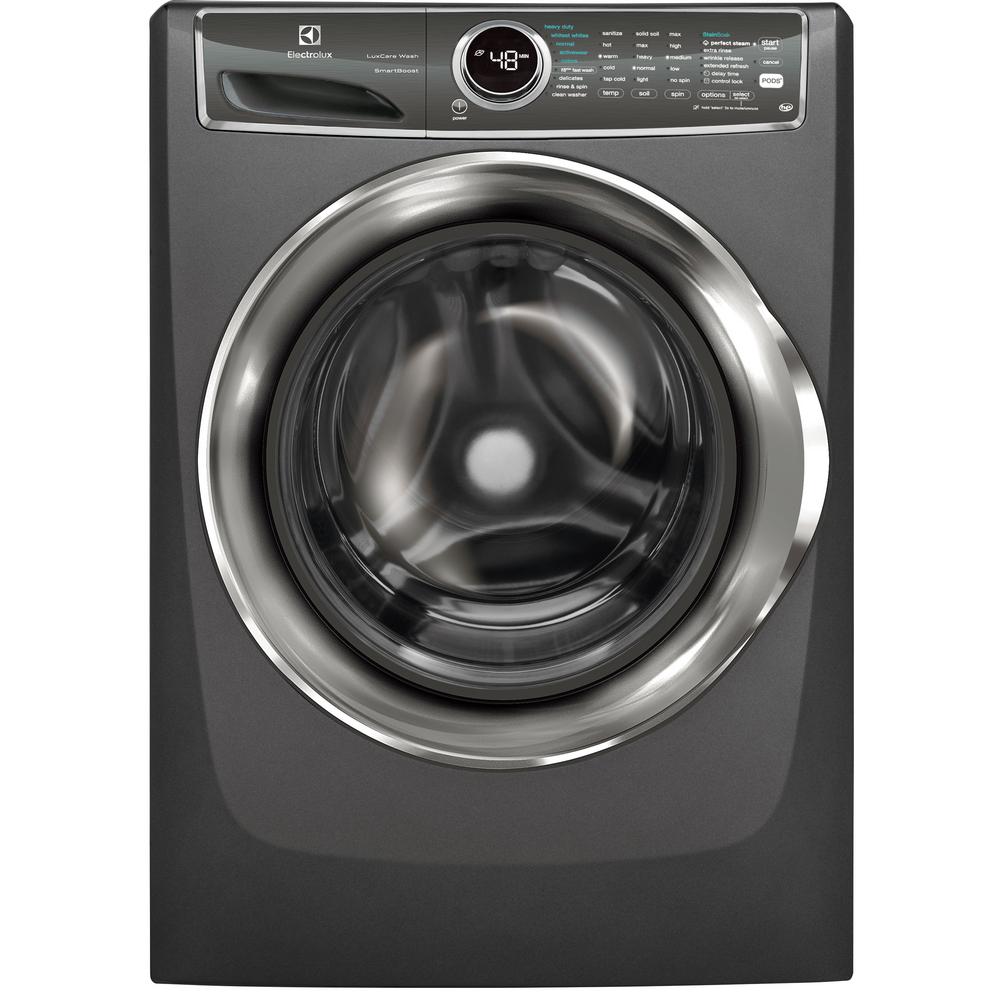 This front-load washing machine (see more) comes with an exclusive SmartBoost technology to remove the toughest stains with the power of steam. It maximizes the capacity of detergent, no matter which one you use to give perfectly clean clothes, even as fast as within 15 minutes.
With an extra-large 4.4 cu. ft. capacity, the washer can easily accommodate a king-sized comforter. There are 9 different wash cycles such as a 15 min fast wash, steam wash, hand wash, and sanitize to make sure the clothes get the kind of attention they deserve. Steam rises from the bottom and slowly rises above to eliminate the stains.
What we like:
Rated as ENERGY STAR Most Efficient (CEE Tier III) for efficient performance
LED Controls for easy one-touch operation and wash cycle display time
Durable stainless steel tub does not rust, chip, or snag your clothing
Luxury-Design lighting lets you see inside the washer
What we don't like:
In some models, water seeps out on the floor from the washer door at times
The end of cycle sound is not very loud and there's no volume control
---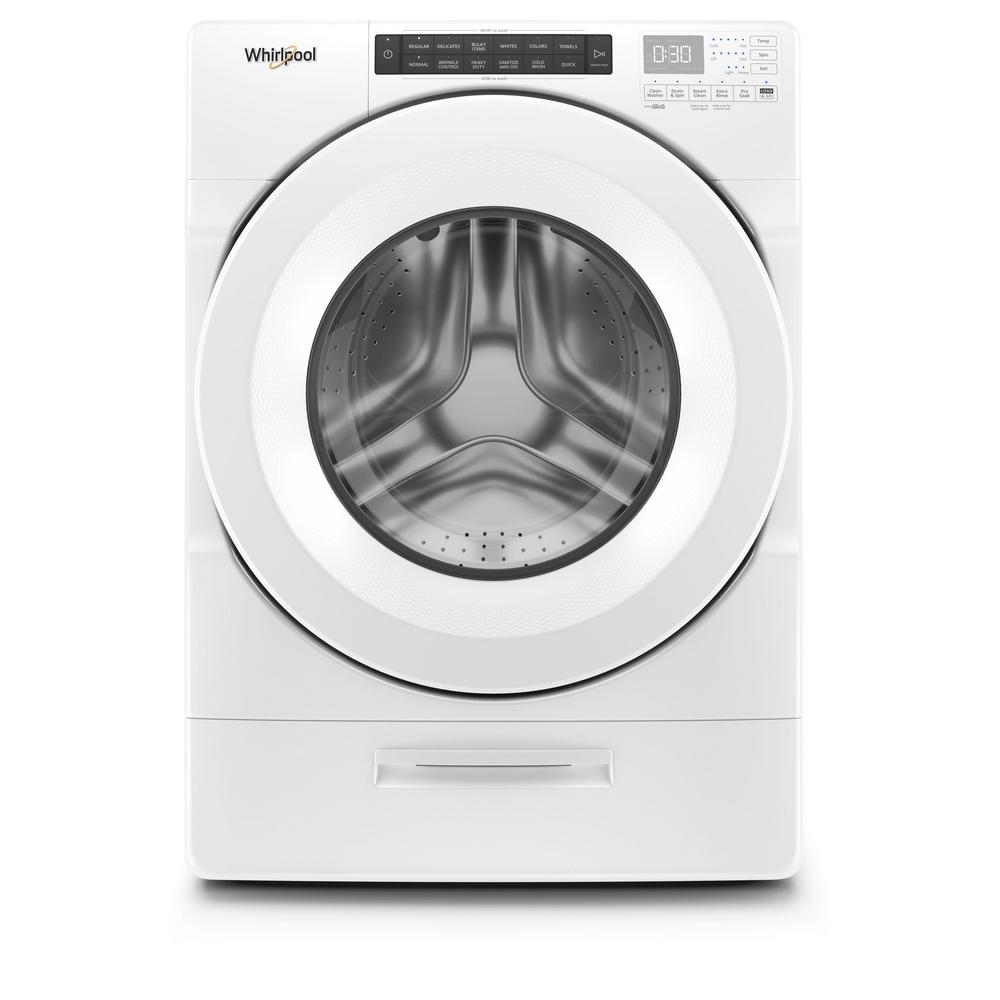 Whirlpool never fails to surprise with its innovations and this HE front load washer allows you to do laundry in a way to fit your requirements. You will only need to fill the detergent once for up 20 loads in the Load and Go dispenser to enjoy hassle-free laundry. With the intuitive controls, you can create customized cycles to fit your daily routine.
With the Steam Clean option, the Whirlpool HE machine increases the inside temperature so that steam gets deep inside fabrics to remove stains. As the unit is ENERGY STAR certified, it helps users conserve the natural resources and also save money on their utility bills
What we like:
Wash more than three baskets of clothing in a single load
Customize up to 35 different types of wash cycles for various fabrics
There's a special Cold wash cycle for vibrant and colorful clothes
Looks great and saves space as it can be stacked with the dryer to complete your laundry
What we don't like:
Slightly noisier than other models but does not cause distraction
---
Final Words
A washing machine with steam functionality does your laundry in a way plain water and detergent cannot. With the best steam washer in the house, washed clothes will not only be cleaner and stain-free but it also helps in killing allergens and bacteria. So, this makes a wise investment for not just your clothes but also your family's good health.
See Also:
4 Best Washing Machines For Blankets
How To Use Fabric Softener In Washing Machine Without Dispenser
How Long Can A Washing Machine Sit Unused?