Where to Store your Worn (But not dirty) Clothes – 11 IDEAS
If you have worn but usable (not dirty) clothes hanging over the chairs or doors, or piled-up under the bed, you are not alone! There are millions like you looking for an answer to – what to do with the jeans or jacket you wore only twice and can be worn a couple of times more before it goes to the laundry? What about the tee you donned just to go to the grocery store or a sweatshirt that isn't clean but not dirty either?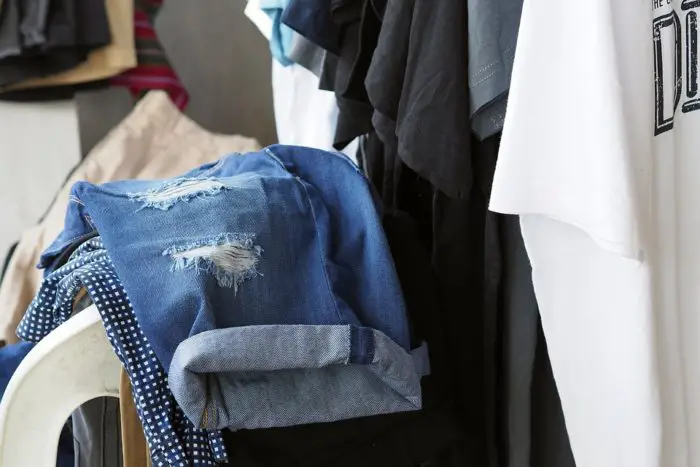 Let's admit that our used clothes are one of the biggest culprits of clutter. The dirty clothes find their place in the laundry basket and the clean ones go to the wardrobe. The in-between clothes that are already-used-but-not-quite-dirty come across as the real offenders.
Today, I will offer an easy life hacks to help you store your worn clothes in the best condition. So, if there's a stain that can be spot-cleaned or wrinkles that can be fixed with a wrinkle-releaser or hand-steamer, you will have more wearable clothes and less laundry work!
Here are 11 easy life hacks that can help you stay organized, reduce the in-between clothes clutter, and optimize the number of times you can wear your usable clothes before they go to the laundry basket.
1. Double Hamper
These are portable and easily foldable laundry bags with two different sections. You may use them to keep dirt and smelly clothes out of sight so that your bedroom looks tidier. It is upon you how you wish to use this double hamper spacious laundry bag. One section may be used to store the not-so-dirty clothes that can be worn a few times more before you wash them. It may also be used to separate clothes by colors to save time while washing.
You may check out the BirdRock Home Double Laundry Hamper that comes with a lid to keep worn clothes off the floor and conceal the smell. The two inner linen bags are made of mesh material, hence they can be washed when dirty. The spacious interior can contain up to four loads of clothes. The divider helps in keeping them sorted by color, kids, spouse, or re-usable.
2. Bunch Of Hooks
Nothing works better than a bunch of extra hooks over the door. When you take off your usable and not-dirty clothes, make sure they go straight to the hooks instead of piling up on the floor or over the chair. It not only saves your wearable clothes from getting dirty but also allows the sweat to dry while keeping them wrinkle-free.
Get the The Door Hook Organizer Rack to declutter your personal space and keep the in-between clothes well organized. The beautiful chrome finish adds elegance to the product and the flexible bracket can easily fit a 1-3/4 inch thick door.
3. Hanging Closet
These lightweight and portable closets work as great space savers in small apartments. They can help you make the optimum use of vertical spaces in your bedroom. Use them to keep your worn yet usable clothes so that your room looks tidy and the used clothes don't get dirty. This can also prevent wrinkles as you neatly fold used clothes and stack them inside the shelves of the hanging closet.
Ziz Home Hanging Closet is a convenient clothes organizer cum storage box. It is made of an eco-friendly and durable material to keep your clothes fresh. There are five shelves to enable you to organize clothes better. It has a foldable design and assembling the unit does not need an expert. At this price, I can't ask for more!
4. Iron Wardrobe Assistant Corner Hanging Bar
The corner areas in a bedroom are usually one of the most underutilized spaces. You can now turn them into a hanging area for your used yet wearable clothes without comprising with your room décor. The hanging bars come in different shapes and sizes so you can choose the one that goes with your interiors. Hang them in your bedroom, guest room, or bathroom to get that clean and organized look.
Check out the Iron Wardrobe Assistant Corner Hanging Bar available at Amazon.com. It can quickly turn any corner of the room into a usable closet. The product comes with essential hardware required for easy installation.
5. Door Hooks
I just can't have enough hooks in the closet for everything! The best place to keep those jeans you have worn once and may wear again before they go to laundry is a door hook. Why let them sit unsightly on the chair when you can conveniently hang them on a hook. You don't need to drill a new hole in the wall to install them, hence they work best for renters. Another advantage is that they can be hidden from sight so the room looks uncluttered.
Check out the IKDMJ Stainless Steel 3M Self-Adhesive Wall Hooks that can be fixed to any wall and used as a temporary hanger for usable clothes.
6. Hanging Rod/ Hooks
Sometimes there are clothes that I may have worn several times but they are not ready to go to the laundry yet.
Don't let them lie around the house looking unsightly. You can place them in hanging rods or hooks in the laundry area or over the washing machine. These work best for wet towels or a shirt that you just wore to the grocery store and might wear again if required. Keeping them close to the washing machine reminds you to wash them if you need to top off your load when doing the laundry.
Another product I absolutely love is the MyGift Black Metal Faucet Design Closet that has a vintage design and offers ample space for hanging garments to keep them wrinkle-free and organized.
7. Clothes Tree
When you want to stay organized and enhance your home décor at the same time, a clothes tree can come in handy. It not only adds more storage and hanging space to your bedroom but also enlivens the space. They can be assembled in multiple ways to suit the dimension of your bedroom.
Take the this Coat Rack for example. It comes with a stylish tripod base and 8 conveniently placed hooks for coats, jackets, hats, scarves, bags and so on. The stand is made of solid rubberwood, which adds durability to it. The hooks have a natural and smooth finish to let you hang your used clothes without getting scratches
8. Towel Ladder
Wooden ladders are a great way to add some nature to your home and keep your space uncluttered. They can be used to keep books, display items, or simply hang used clothes over them so that they are not lying around the house. Ladders are cheap and they come in different sizes to suit your pocket and needs.
This Wooden Ladder (see Amazon) made from 100% recycled wood. It can add a rustic look to your home. The ladder can be hidden behind the door if you truly want to hide it or kept flat against the wall. You may choose to lean it against the wall or mount it to hang clothes freely so that they do not get smelly.
9. Wire Storage Cube
When you need a cheap and quick storage solution, the wire storage cubes work great. The best part about them is that you can assemble them as you please to fit your needs. I recommend 2 wide by 3 high, keeping the topmost sections open on the top instead of the front. This will allow you to use the cubes as storage bins to keep your used clothes well organized.
SONGMICS Metal Wire Storage Organizer (shop now) offers multiple storage possibilities and tons of space to keep your clothes, accessories, souvenirs, and other items. The cubes are durable and highly flexible, so you can add more cubes or remove them as required. Easy assembling and disassembling make them a perfect choice for home improvement.
10. Clothes Valet Stand
This one is for those exclusive and expensive garments that you would like to wear multiple times before washing. Your executive suit, overcoat, matching shoes, and accessories can all be stored together in a valet stand. They not only provide storage space but also add more value to the home décor.
The ClosetMate Executive Clothes Valet Stand (Learn more) is made of solid hardwood with a Mahagony finish. It has separate hangers for jackets, trousers, shoes, ties, and belts. There is also a mirror and a tray for small items like wallets, keys, and watch.
11. Trouser Press
If your pants wear unsightly wrinkles after one use, a trouser press can be a great alternative to having to iron them again. This can save you time and space too! The trouser press often comes with hooks and hangers to store reusable shirts and trousers.
Corby Of Windsor Pants Press is a reliable brand and does a great job of straightening out the creases so that your already worn trouser looks wrinkle-free. The press looks gorgeous with a black ash finish and the gentle heat action works as a quick alternative to ironing.
Bonus Tips:
Conclusion
In an age where time is money, these simple yet useful life hacks not only help you save time but stay organized even in small spaces. Someone has rightly said that the first step to reducing stress in your life is to declutter your home. When your clean and used clothes are well organized, you will not only step out looking perfect for every occasion but will also save an incredible amount of time!
See Also:
Can I Keep A Washing Machine In The Bathroom?
How Soon Can You Put Furniture On New Carpet
Can You Put A Treadmill On Carpet
Can You Put A TV In Front Of A Window
What Size Should A Home Office Be?