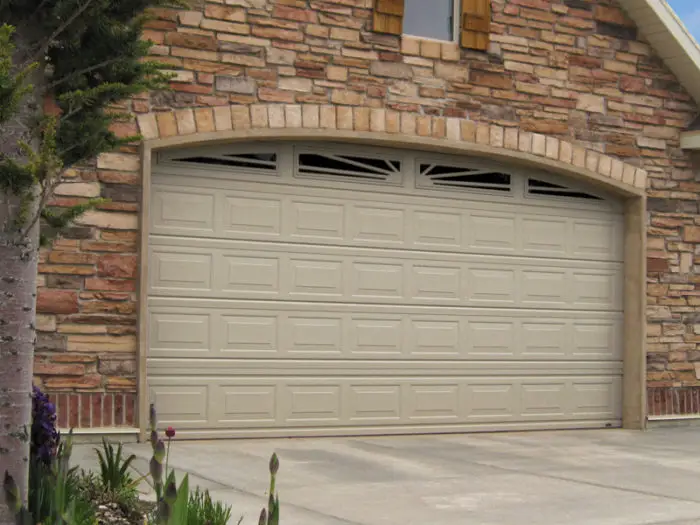 We are reader supported. When you purchase through links on our site, we may earn an affiliate commission. Also, as an Amazon affiliate, we earn from qualifying purchases.
When I began my journey to build a smart home, I had made up my mind that this would be an all-inclusive project, not just limited to the interiors but the exteriors as well. The most important things I have used to turn the external space of my home into a hackers-free den are a weather-resistant outdoor camera and a smart garage door opener.
While the former lets me keep an eye on my property even when I am out of town, the latter takes security to a higher level and informs me every time the garage door is opened. In this post, I will share my experience, tips, and suggestions on the two ways in which you can convert your dumb garage door into a smart gadget.
Option 1. Adding The Smart' Aspect To Your Dumb Garage Door Opener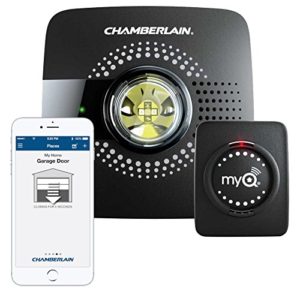 If you have a garage door opener installed already then there is no point in buying a new device to replace it. Instead, you can simply turn your existing dumb device smart by installing a quick fix that takes only about 15 minutes to set-up. For this, I would recommend the MyQ Smart Garage Hub (see Amazon)from the house of Chamberlain.
This small yet powerful device works with most garage opener brands and takes just a few minutes to connect with your home network. Although installing the product is a breeze, make sure you read the instructions in the guide carefully. Alternatively, you can follow the app and follow the instructions.
MyQ Smart Garage has two parts – the door sensor and the wi-fi hub.
The door sensor should be vertically attached to the top panel of the garage door using the screws. The Wi-Fi hub can be installed on the ceiling of the garage door opener (either side works). The hub should be clearly visible when you stand in the garage doorway.
What I Love About The Chamberlain MyQ Garage
This is one of the most reasonably priced smart garage door openers. It takes only about 15 minutes to install by simply following the instructions.
Another amazing feature that I absolutely love is that it gives out alerts whenever the garage door opens or closes. I can also ask Alexa if the garage door is open and close it if I leave it open by mistake.
Thus, it gives me the peace of mind even in the middle of the night knowing that the biggest door in the house is securely closed. There is also the option to receive emails if you do not like getting notifications on your app.
What I Don't Like About The Chamberlain MyQ Garage
While the gadget works impressively with a wide range of smart home products, it still does not provide official support for Revolv and SmartThings.
How to Install  MyQ Garage?
https://www.youtube.com/watch?v=ijiYAI4fpVY
Options 2: Buying A Brand New Smart Garage Door Opener
If you are planning to buy a new garage door opener anyway, I would recommend that you opt for the smart gadget to add value to your smart home. While there are many options available in the market, the Chamberlain B550 comes across as the best bet.
It is one of the most durable and quiet garage doors that come with built-in MyQ technology to enable you to close, open, and find out the status of the garage door from anywhere using the MyQ app. The device also has an impressive range using the Triband technology and it connects to the hub even from a distance of 1,500 feet.
It also comes with a wireless exterior keypad that allows you to access the smart garage door using the four-digit code. The gadget comes with a remote control that allows you to control up to three different openers.
There's no denying the fact that B550 is one of the most advanced breeds of smart garage door openers from the Chamberlain stable. With a high level of monitoring and encryption, it keeps your garage fully secure from any intruder.
What I Love About Chamberlain B550
This safe and easy to use smart device seamlessly connects to your home network using the built-in Wi-Fi network.
Although the B550 is operated by a powerful motor, the strong belt-driven system keeps the living spaces in the house virtually silent.
Every time your garage door opens and closes, you can receive alerts on the smartphone. You may also use the app to set a recurring schedule to turn the lights on and off.
The device protects people and vehicles as it comes with safety sensors that stop the door from closing if there are any obstructions. It also electronically dissuades forced openings.
The MyQ app syncs with the popular smart devices and other platforms to keep you in control of the device from anywhere.
What I Don't Like About Chamberlain B550
Well, there's actually not much I dislike about this smart product, but the only thing I would like to change is the connectivity. To make the B550 work, you need a really strong Wi-Fi signal. I wish they could improve on that point.
What Are The Other Things To Look For In A Smart Garage Door Opener?
When you are out in the market to look for a smart garage door opener, here are the three most important things that you need to consider.
Connectivity
Currently, the manufacturers offer two types of connectivity for smart garage door openers, and these are Bluetooth and Wi-Fi. The Bluetooth connection works fine if you wish to connect the smart device within a range of six meters. The Wi-Fi connection, on the other hand, works great if you wish to control the garage door remotely.
Compatibility Level
If you are looking to buy a smart device for your existing garage door opener then you will need to ensure that the brand is compatible with your door. I suggest that you ask an expert and always purchase a smart gadget that is perfectly compatible to avoid any interoperability hassles. Some smartphones do not support certain applications so you may need to consider this aspect as well.
Extra Features
How about some add-on features to enhance your smart garage door opener? You have the option to choose from a plethora of extra features such as video monitoring, parking assistant, carbon monoxide detectors, wireless microphone, to name a few. With extra features, various family members will be able to access the garage door and you can enhance the security to alert the police if you suspect home invasion while you are on a vacation or business trip.
Final Words
After scouring the planet for the best smart garage door opener that delivers value and fits my budget, I can safely conclude that Chamberlain B550 is what you need to turn your entire property into a smart haven. From its diverse features and connectivity to compatibility and pricing, the Chamberlain B550 hits right in the sweet spot'.
If you already have a garage door opener, check out the MyQ Smart for an affordable solution but if you are looking to buy a new one, I have no qualms about suggesting Chamberlain B550.