When I wake up in the morning, one of the first things I reach for is a steaming cup of Espresso coffee to kick my senses and energize myself for the day! For years, I have headed to Starbucks to get my morning fill, as I hate making my own coffee. Not anymore!
I have finally discovered the Holy Grail while setting up my new smart home. It occurred to me, why not get a smart coffee maker that would be customizable and brew a fresh cup of coffee every time I rise out of bed. Voila! It looks like technology has finally started making dreams of an automated home come true.
In this article, I will tell you how my coffee maker compatible with Alexa changed my life and discuss numerous other ways that can help you achieve the same results using Alexa.
Behmor Connected Coffee Brewer
This innovative coffee maker works like a boon for all those who must have a coffee first thing in the morning but don't like making one. Behmor Connected Coffee Brewer takes the stress out of coffee making by integrating it with Amazon's Alexa. This gives you the freedom to start brewing coffee with voice commands, without the need for IFTTT.
If you are looking to build a fully automated smart home, you may as well as add Behmor's coffee maker in your list of voice-controlled smart devices. Although it is slightly on the expensive side, it feels worth every penny when you get to enjoy a freshly brewed aromatic coffee on cold mornings without having to raise a finger.
How to make it work?
Simple. You just need to ensure there are water and coffee beans in the coffee maker. Next, you can command Alexa when to make your coffee. For example, you may say "Alexa, ask Behmor to start brewing my coffee".
So, by the time you finish your morning duties, your piping hot coffee will be ready to greet Good Morning! It's actually up to you whether you choose to have your coffee right out of bed or while reading the newspaper.
If you have an Amazon Echo or Echo Dot like me, you may even ask a question like "Alexa, ask Behmor is the coffee is ready". So, Alexa will communicate with the device and answer back in a robotic voice.
Wait! That's not all. There's another amazing benefit of using the Behmor Connected Coffee Brewer. It works with Amazon's Dash to help you reorder beans automatically when the supply runs low. A refill of the coffee beans can be ordered using the Behmor companion app on a tablet or smartphone. Now, that's called technology!
Behmor Connected Brewer is the ultimate smart device to integrate with Alexa when you want to brew a fresh cup of coffee by giving out voice commands. However, if you feel it's beyond your budget, you need not lose heart. There are numerous other smart ways you can try to achieve a similar result. I will tell you how.
Connect a smart switch to your ordinary coffee maker.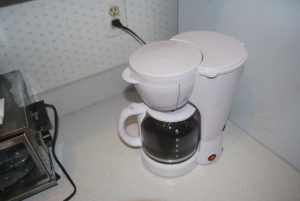 To realize your dream without breaking your bank, you need to invest in a good smart switch that is compatible with Alexa, HomeKit, or IFTTT. You will also need an old coffee maker that has a rocker switch instead of a power button.
The benefit of using a device with a rocker switch is that you can let the coffee maker stay connected to the power source, and control the power supply with Alexa. This saves you from having to manually connect and switch on coffee maker when it's time to brew a hot cuppa for you!
While setting up the smart switch unit, you can give it a name like make coffee or brew my coffee. If you already have a smart switch and they are not supported by Alexa or HomeKit, visit alexa.amazon.com to check for a skill that can help. Follow these steps:
Go to Alexa website
Click on Skills' on the left in the navigation section
Search for the smart switch brand
If the smart switch brand is not supported by HomeKit, there are not many Siri users can do about it. Luckily, the Alexa users still have hope!
If you can't find a native skill or support for the brand, you can connect the switch with Amazon Alexa using an IFTTT Applet. You will need to create a personalized trigger phrase that will activate the device to start brewing coffee for you.
I have listed down the steps to follow to make it easier for you. (Let's say you have a WeMo Insight Switch)
1. Login to your IFTTT account and select Create
2. Search for Amazon Alexa option under Trigger Channel, and click on it
3. Type in a unique trigger phrase such as brew coffee' or coffee time" and click on 'Create Trigger'
4. Now look for the WeMo Switch channel
5. To Activate the action, select Brew coffee'
6. Now click on Create Action' and then Create Recipe' to confirm the changes
Once you are done with the settings, plug the ordinary coffee maker to the switch, fill the water tank as required, add your preferred coffee grounds and a filter to the basket, and you are good to go!
Whether it is 6 am in the morning or midnight, all you need to do is say the trigger phrase that you have set while configuring IFTTT recipe and your steaming hot cup of coffee will be ready to enjoy.
Having explained that, I have one more option to discuss with you. If money is not a constraint and you are determined to spend what it takes for an ultimate smart coffee maker experience, then check out the Mr. Coffee Optimal Smart Brew. I have explained it in detail below:
Mr. Coffee Optimal Smart Brew
Although a slightly more expensive and official, the Mr. Coffee Optimal Smart Brew is another useful smart 12-cups coffee maker that can work with your voice assistant using IFTTT recipe. First, install the coffee maker and then follow the steps given below:
1. Go to IFTTT website
2. Login with your credentials
3. Click Channels on the upper hand right corner side
4. Now, look for the WeMo channel and Select it
5. Click Connect
The above steps will take to a verification process to authentic your connection of WeMo with the IFTTT accounts.
Now, follow the same steps as mentioned for connecting the smart switch to add this recipe to your IFTTT account. Create your custom trigger phrases such as brew coffee' for the WeMo device to get activated.
To make this recipe work for you every time you need your fill, ensure that there's enough water in the tank and coffee grounds in the brew basket.
Now you can use commands like Alexa, trigger make coffee' from the bed, shower, or practically anywhere your voice assistant can hear you.
Final Words
With smart devices and appliances becoming one of the hottest selling products in the industry, the future of smart coffee makers looks bright. Customers wished for a device that could brew a hot cup of coffee ready to sip on as they pulled out of bed, and technology made that possible. With a plethora of options available for automating your home, appliances, and devices, the possibilities of what you can do are endless.
As far as coffee is concerned, I feel the future has arrived and it is up to us how to wish to use it to change our lives for the better. I leave that to you. That being said, I think it's time for me to take a break to ask Alexa to brew a hot cup of Espresso coffee!