When you are interested in trying Asian recipes in your American or European kitchen, you will find one common thing connecting most of these dishes: most Asian cuisine makes use of rice as an integral part of the dish. Whether it is sushi, onigiri, or donburi, you'll need to cook your rice to just the right consistency for all of these recipes.
Rice that is too hard or too mushy can spoil the texture and taste of the dish, so you need the right rice cooker to take the pressure out of cooking your rice properly. In this post, we compare the two popular rice cookers—the Instant Pot and the Zojirushi rice cooker—to help you understand the differences and decide which item may be best for your own uses.
Instant Pots vs. Zojirushi Rice Cookers: The Obvious Differences
The Instant Pot is a relatively newer invention that works well as a replacement for many old rice cookers. The Zojirushi Rice Cooker has been around for a long time, and it has received many good reviews from customers. It cooks good quality rice and also has the ability to make brown rice, too.
Zojirushi is a brand that makes some of the best and smartest rice cookers on the market. Their models are expensive because they can be used to cook a variety of different rices without spoiling them. However, it's worth noting that these models do not come with so many extra settings like the Instant Pot does.
The Instant Pot, on the other hand, uses a pressure-cooking technique to prepare one's rice. It can also be used for making yogurt, slow-cooking a meal, and steaming vegetables. You can also save space by acquiring this versatile kitchen appliance to replace your old rice cooker that does only limited jobs.
Instant Pots vs. Zojirushi Rice Cookers: The Finer Differences
Having discussed the most obvious differences between the two, now let's dig a little deeper and get into the finer differences between these appliances. We'll address these one by one.
Quality
When you compare the quality of Zojirushi Rice Makers and Instant Pots, you can certainly say that the former are very high-quality kitchen appliances. While they are kitchen appliances that are used to make rice just like Instant Pots, they are far more dependable and time-tested.
The Zojirushi Rice Cooker also comes with some extra functionalities, such as helping your rice stay moist and warm for a longer time. Many people prefer the taste and texture of warm rice, but they also don't want it to be too soft. With the Zojirushi Rice Cooker, this is not something you'll have to worry about.
While the cooked rice comes out pretty well in an Instant Pot, the quality is not as good as the rice cooked in a Zojirushi Rice Cooker. Instant Pots can get the job done, but they will be unable to reach the level of perfection in cooking rice when compared to the Zojirushi units.
Versatility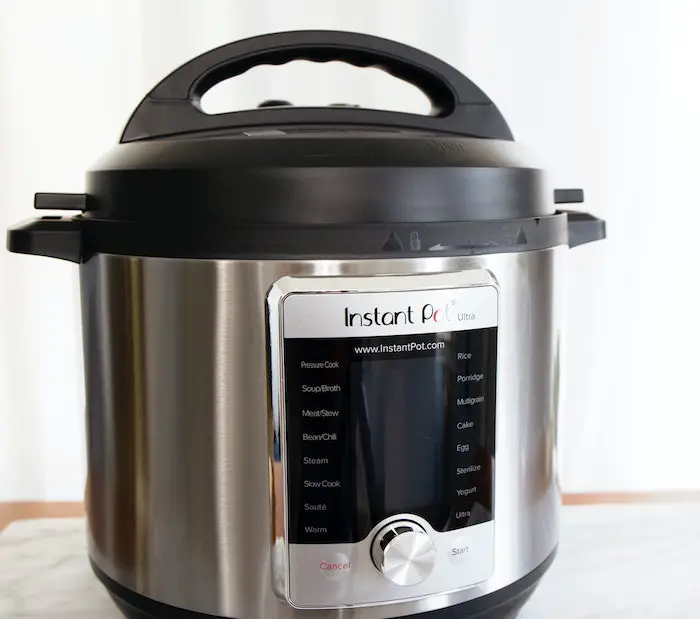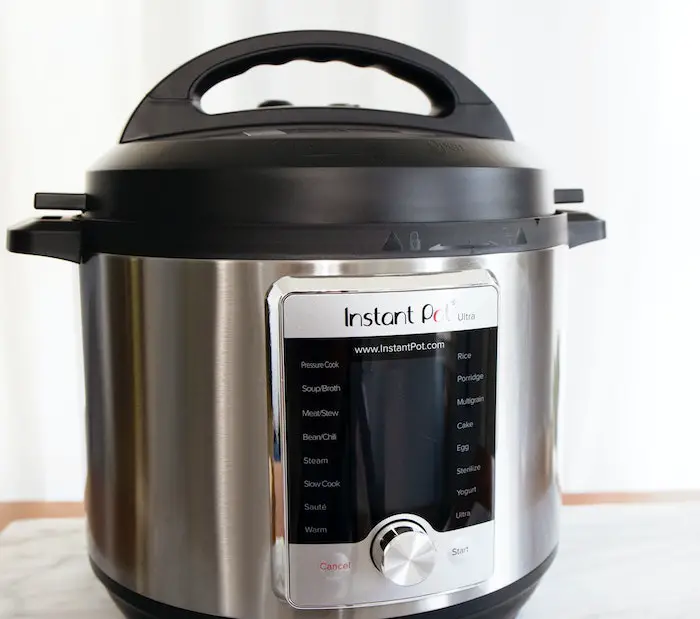 The Instant Pot is an amazing kitchen appliance that lets you prepare a large number of amazing dishes in less time than usual compared to conventional cooking methods. It is a kitchen appliance that does numerous cooking tasks and in much quicker amounts of time.
With the help of an Instant Pot, you can cook rice, steam vegetables, and also use it to cook meat and bake cakes. You can simply add rice along with the instructed amount of water to have your rice ready within about 10 minutes or so. It also comes with many settings, including the manual settings for choosing how long you wish to keep cooking whatever food is being prepared within the device.
Unfortunately, the Zojirushi Rice Cooker is not as versatile as the Instant Pot; hence, you can only use the Zojirushi to cook rice and similar types of food. The functions are limited in this case, but you may still use it for making porridges and other similar foods.
Cooking time
Making rice is typically considered a tedious and time-consuming task. However, with an Instant Pot, it becomes easier and much faster, so you'll have plenty of time to spend on other tasks. With the use of an Instant Pot, you can save a lot of time in the kitchen.
The Instant Pot also lets you retain all the steam and flavor intact inside your meal, ensuring that it tastes delicious every time. It works significantly faster than the Zojirushi Rice Cooker and may also be used for plenty more besides just rice.
Ease of use
In this aspect, we feel that Zojirushi Rice Cookers have the upper hand as they come with removable lids that can be easily locked and unlocked. They are easy to clean, have less weight, and also come with useful built-in settings. To cook your rice, you simply need to measure out the correct amount of rice, add it to the right amount of water, and you'll be enjoying your meal in no time.
It's worth noting that the old Instant Pot models are not as safe as the newer models, so the company had to recall several products from the market. Some of the recalled products include the Sous Vide and Duo Mini models. Even though they may not cause any injuries, these kitchen appliances do pose a health risk; therefore, it's worth considering making an upgrade.
When there is extended or repeated use, you may also have to worry about the size and thermal constraints. The Instant Pot is undoubtedly a great product, but it may become difficult to deal with when trying to safely deal with the pressurized heat when trying to release it from the device.
Price
The rice cookers by Zojirushi are extremely popular, and they are also very expensive. However, they are not the only option you have when looking for a high-quality rice cooker. There are temperature and pressure sensors that take care that the rice does not get overcooked, which is something you don't find in the lower-end models.
The Instant Pot, on the other hand, is a cheaper and more affordable option.  
However, if you want the most reliable rice cooker on the market, you should opt for the Zojirushi Rice Cooker. They are built for enduring years of use and come with a plethora of features that you likely may need in a rice cooker.
We are providing a brief overview of each one of these. We will then discuss a few general and obvious differences before getting into the finer points that separate them from each other.
| | | |
| --- | --- | --- |
| Features | Instant Pot Duo Plus | Zojirushi NS-TSC10 |
| Measures | 13.4in. x 12.2in. x 12.5in. | 14in. x 10.1in. x 8.5in. |
| Weighs | 11.83 lbs. | 9.5 lbs. |
| Panel | Easy-to-read display | Easy-to-read LCD display panel |
| Rice-Water ratio |  1:1 ratio | 1:2 ratio |
| Functions | 9 functions/settings | 4 programs/settings |
| Automatic 'Keep Warm' | No | Yes |
| Capacity | 6 Quarts | 5.5 cups |
Out of all of the kitchen appliances that have been made to save you time and make your life easier, the Instant Pot stands tall amongst the rest. From helping you bake a cake to steaming vegetables to heating foods and tenderizing meat, they are amazingly versatile.
An Instant Pot is an all-in-one appliance you can use to prepare good-quality rice for a variety of recipes. All you need to do is simply measure the rice, add the right amount of water, and you are done. It also comes with multiple functions and preprogrammed settings that help you revolutionize your own little world of cooking.
As it comes with numerous built-in settings, you don't have to worry about much when cooking with this device. The Instant Pot shuts off automatically after cooking is complete, saving you time and energy. One of the most recommended models is the Instant Pot Duo Plus 6-Quart 9-in-1 Electric Pressure Cooker (shop now).
---
If you are passionate about the art of making perfect rice, you will probably want to invest in a Zojirushi Rice Cooker. While an Instant Pot lets you cook rice quickly, it does not attain the level of perfection that is achieved when using a Zojirushi Rice Cooker.
Besides cooking rice to the perfect texture, the Zojirushi Rice Cooker also helps keep the rice warmer for a longer duration. It interlocks the moisture within, keeping the rice soft and nice as well. Other than cooking rice, you may also use the Zojirushi cooker for making cakes, porridges, and steaming vegetables.
One of the models we recommend and that we used for our analysis is the Zojirushi NS-TSC10 rice cooker and warmer. With a capacity of up to 5.5 cups, it uses micro-computerized fuzzy logic technology to cook the rice and also keep it warm.
Related Questions
What are the things you must not cook in an Instant Pot?
Instant Pots should not be used for any foods that are desired to be baked or crispy. Although you may be able to bake a cake within an Instant Pot, trying to cook something like cookies is less ideal. Additionally, breaded foods are best fried in a pan, a deep fryer, an air fryer, or baked to perfect crispiness in the oven. You will also need to be sure you only use the correct amount of liquids in your Instant Pot to avoid scorching or overflowing the device once the pressure and heat kick in.
Why are Zojirushi Rice Cookers so good?
These rice cookers are so good because they feature easy-to-read LCD panels that come with a clock and programmable settings, and they are specifically designed for cooking rice rather than numerous other things as well. You can use these to cook all types of rice—such as brown, white, or long grain—and they may also be used when making porridge and cooking mixed grains.
How long can my rice stay good in a Zojirushi cooker?
There are some customers who keep rice in their Zojirushi Rice Cookers for 4-5 days. However, we suggest that you keep it in the device only for 12 hours to maximize the taste. If you use the extended reheat function, you may keep it good for 24 hours.
See Also:
4 Best Instant Pots For Indian Cooking
Ninja Foodi Air Fryer XL Review
Bayou Classic KAB4 VS KAB6 (Here's The Difference)
4 Best Dutch Ovens For Deep Frying