If you are a KitchenAid loyalist then you are on the right track buddy because this American home appliance has a lot going on its favor. Today, we have compiled the 6 KitchenAid refrigerators reviews for you to take the stress and risk out of decision making.
The best thing about the KitchenAid refrigerators is that there is no dearth of options, allowing customers to take home just what they want to fit their needs. From a refrigerator with French doors or contemporary unit with touch-activated controls to traditional stainless steel models, they have you covered.
Whether you are setting up a new kitchen with your partner or you need a refrigerator for your dorm, there is something for everyone. Make sure you take into account the number of people in your family, their requirements and eating habits before choosing a product.
We know it's insane for any average consumer to do a thorough study of the market; hence we have done the task for you. Our review team has spent hours reviewing, analyzing, and comparing over a dozen products to find the top 6 refrigerators for you.
Read on to find the detailed review of each product handpicked by our team after careful analysis. If you don't have the time to read until the end, we suggest that you choose the KitchenAid 22 cu. ft (learn more) . that has a stainless steel exterior, 22.07 cu ft capacity and Tier I energy rating.
---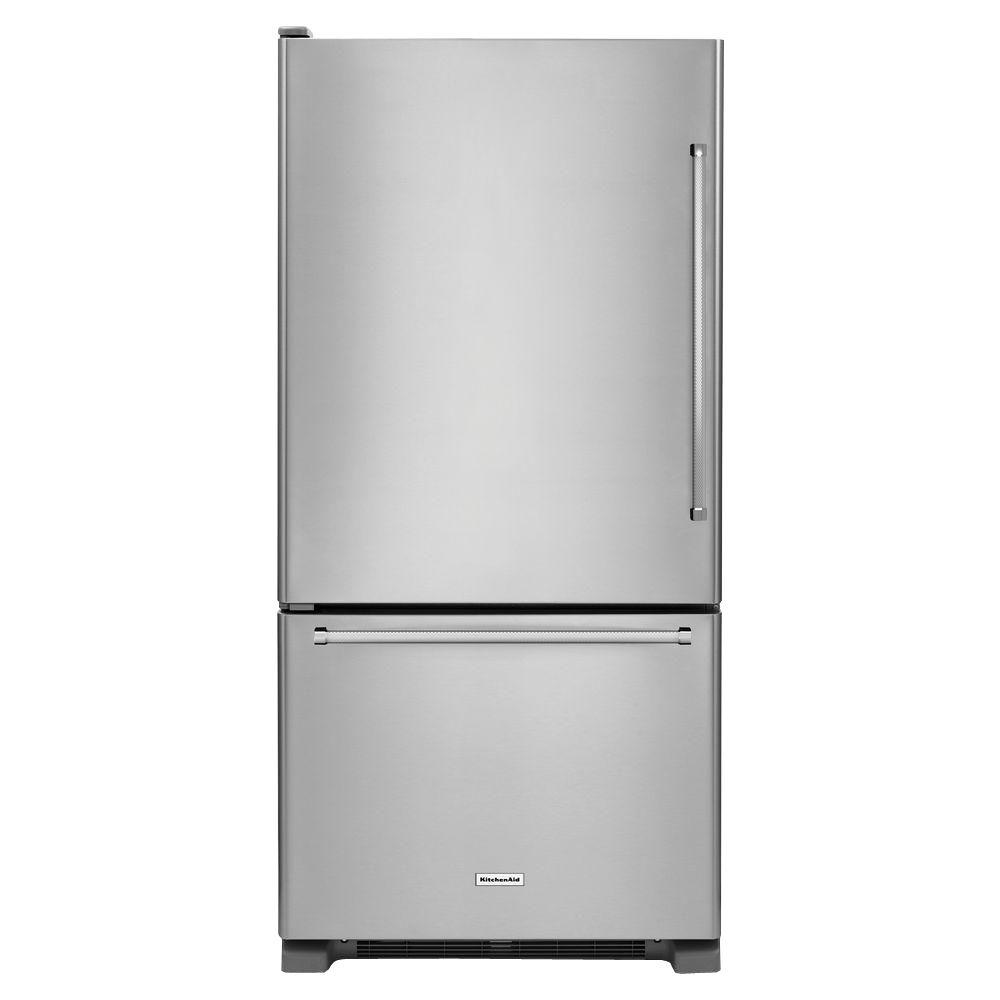 This stylish KitchenAid refrigerator measuring 19 cu. ft. uses an ExtendFresh Temperature Management technology to preserve the taste and texture of your food. We love the bold stylish and sleek appearance that perfectly blends with the interior to give your kitchen a sophisticated look.
There are Satin Textured Handles and a gorgeous chrome frame that look iconic, plus the effect of LED lighting throughout the refrigerator further makes it one-of-a-kind. You can find the electronic temperature controls on the front side of the refrigerator compartment for easy adjustment.
Maintenance is easy as the refrigerator comes with adjustable spill-proof glass shelves to contain any liquid spills for quick and easy clean up. A full-width pantry drawer, metal wine rack, and slide-out freezer baskets provide enough options for the storage of different types of foods. The manufacturer backs up the product with a one-year limited warranty.
Product features
18.67 cu ft capacity
Stainless Steel
Humidity-Controlled Crisper
Tier I energy efficiency rating
Glass shelves
Adjustable Leveling Legs
Adjustable Temperature Control
LED Light Type
User/ Customer reviews
Most users feel that the stainless steel exterior works perfectly with their kitchen décor and looks absolutely gorgeous. People are happy with the various compartments that make storage easier and give more space for varied food items. A few customers have complained that it's slightly more expensive than competitors, give just 10 years of lifespan.
Conclusion
If you want to go for a simple yet elegant KitchenAid refrigerator that offers ample storage space and comes rich with features then this is a good choice. Although slightly pricier than others, this product is well-built, looks good, and performs really well for the price.
---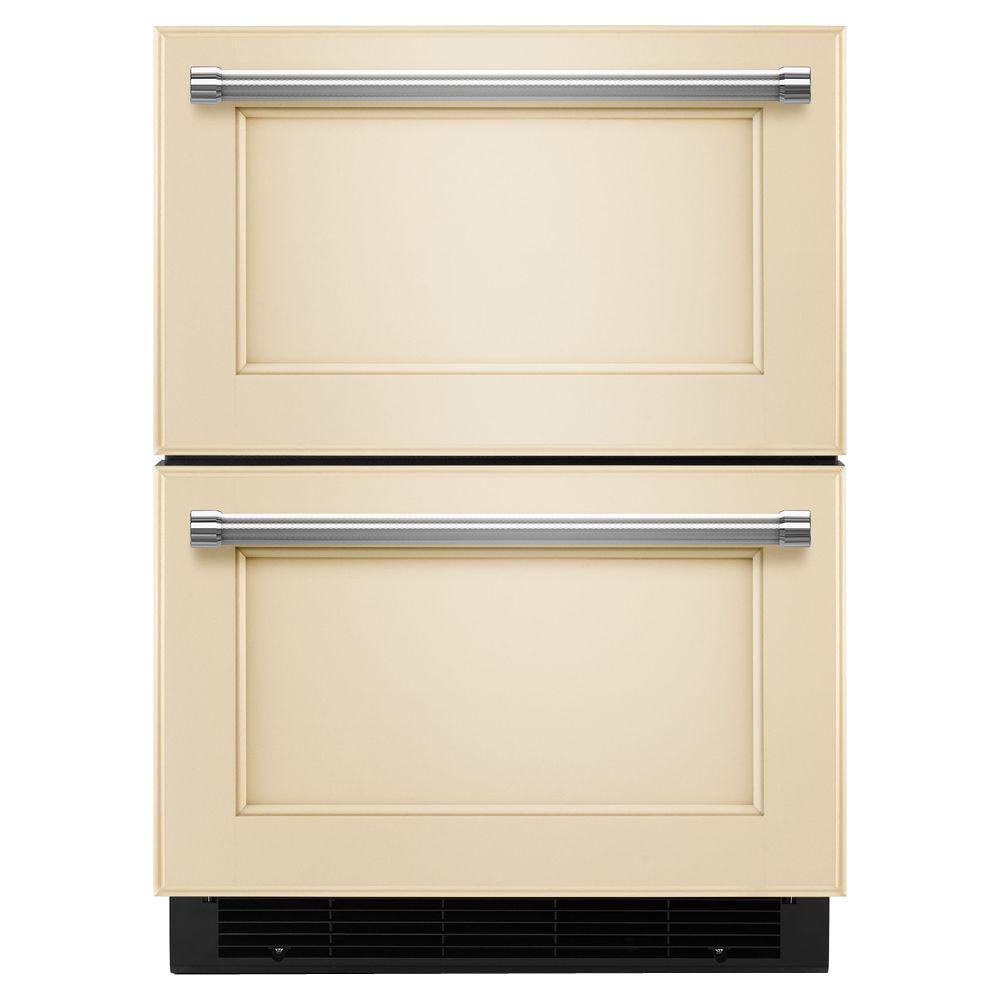 This panel ready refrigerator with a double drawer can be easily customized to match the kitchen décor with custom handles and panels. There are two separate zones that can be controlled to maintain the right temperature and has adequate space to store frozen items, wine, and other consumables.
The LED interior lighting makes it easier to see inside the refrigerator and touch controls provide an easy electronic interface to adjust the temperatures and settings. If the temperature is not conducive for cold storage and rises above 45°F for over 4 hours, the sensors immediately trigger an alarm to let you know.
Users can choose from a built-in or freestanding installation option to give you the ultimate flexibility and versatility for easy placement, as you like it. The manufacturer stands behind the product with a one-year limited warranty on parts and labor, and 5 years warranty on the liner and sealed refrigeration system.
Product features
Weighs 152 lb
4.7 cu ft capacity
Auto / Cycle defrost type
Door Alarm
LED Light Type
Double drawers
User/ Customer reviews
Many users have said that this is one-of-a-kind in the market and fits well as a built-in or freestanding unit amidst the cabinets for a kitchen remodeling. Users love the adequate space in the freezer and automatic ice maker to keep the entertainment going. A few users have said that their unit makes a lot of noise while others have mentioned that the noise is not disturbing.
Conclusion
If you are building a new kitchen or remodeling one then you must check out the KitchenAid 4.7 cu. ft. Double Drawer Refrigerator for a customized look. The satin custom handles look great and touch controls make it easier to control temperatures. Overall, we think this is a good investment for kitchens where they can fit well.
---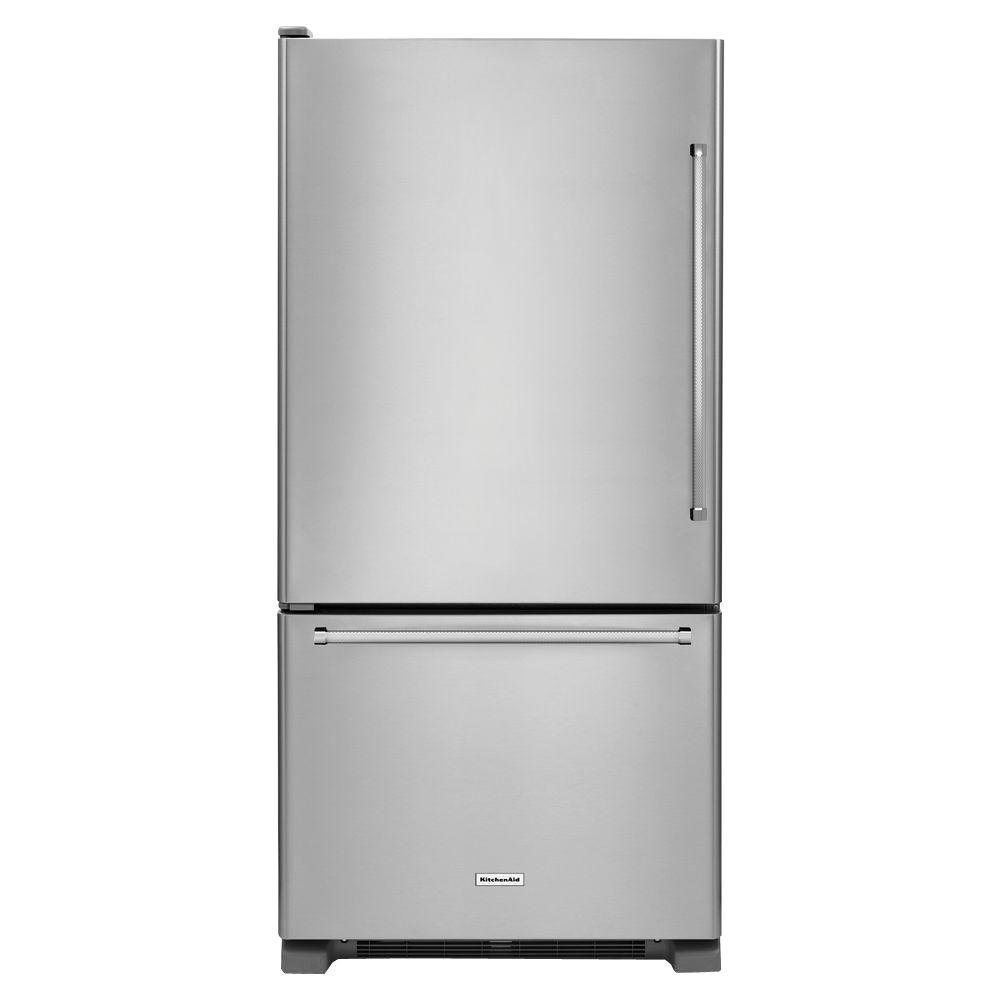 This stylish and sleek grey stainless steel KitchenAid refrigerator sports a 22 cu. ft. capacity which is good enough for a large family. It is equipped with the ExtendFresh Temperature Management system that helps to retain the original taste and texture of food for long.
We love the gorgeous chrome frame and satin-textured handles that add more grace to any kitchen décor. There is LED lighting within the refrigerator to make it easier to find the food on the shelves. With the help of electronic temp control located at the front, users can manually adjust the temperature settings.
The refrigerator comes with humidity-controlled crispers to provide you with a dedicated storage option to ensure that food stays fresh for a longer period. There is a removable metal wine rack that can hold up to four 2-liter bottles, and can be taken out to make more space.
Product features
22.07 cu ft capacity
Weighs 298 lb
Made of Stainless Steel
Tier I energy efficiency
2 Baskets/Bins
5 shelves
Limited 1-year warranty
User/ Customer reviews
People who have bought this refrigerator appreciate the gorgeous looks and ample storage space for a variety of food and beverages. Users are happy with the single door that allows deeper shelving and easy organization to free up more space. A few customers have said that they wished there was an icemaker in the refrigerator.
Conclusion
This bottom freezer refrigerator has enough space for a small family and looks good to fit into any kitchen décor. If you are looking for no-frills and need a refrigerator with good shelving and decent features then this one fits the bill perfectly.
---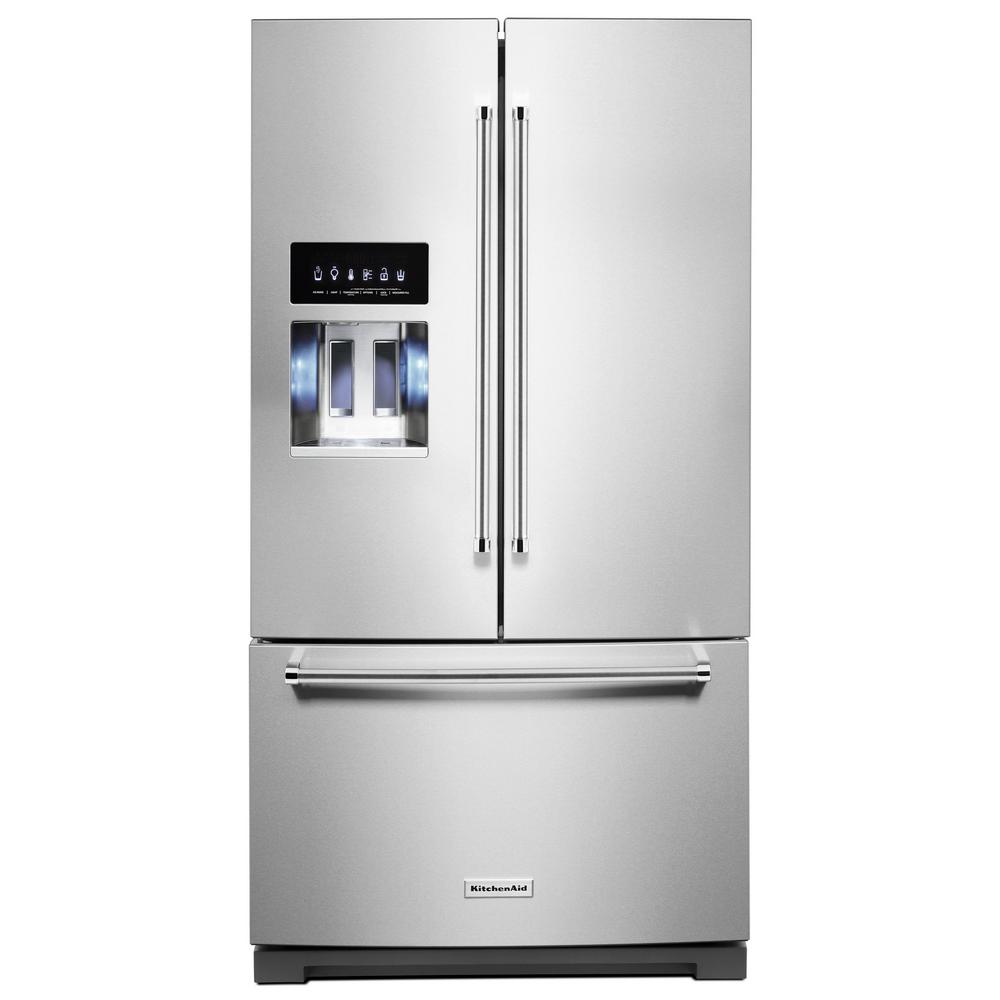 If you fancy a French door refrigerator, we suggest the KitchenAid 27 cu. ft in PrintShield Stainless texture to adorn your kitchen. The exterior sports an easy-clean PrintShield finish that resists any fingerprints or smudges, so there is less maintenance work required to keep it looking good.
The 2-door refrigerator comes equipped with an ExtendFresh Temperature Management System that optimizes the inside temperature to keep your food tasting and looking fresh for long. There is a Temperature-Controlled pantry that optimizes the temperature and ensures good airflow
Besides being gorgeous, the interior also has LED lighting for better viewing inside the refrigerator and metallic accents that add to the grace. There is a gallon door storage and pizza box slot too, plus the unit is backed by the manufacturer's one-year limited warranty.
Product features
27 cu ft capacity
Weighs 327 lb
2 Baskets/Bins and 5 shelves
Stainless steel finish
French door
Automatic Ice Level Control
User/ Customer reviews
Users love the size and storage capacity of the refrigerator enabling them to stock a lot of products that come in handy in a pandemic like situation. Some people have also mentioned that the temperature management makes the vegetables and fruits last longer without going bad. A few customers have warned that you need to buy an extended warranty to get KitchenAid to repair after a year.
Conclusion
The KitchenAid 27 cu. ft. French Door Refrigerator is a spacious model that works great and cools really well to retain the freshness of food. It sports a clean and classic interface with easy to use interface that anyone can operate. If you are a large family, this unit can perfectly take care of your needs. Overall, it offers a good price to performance ratio.
---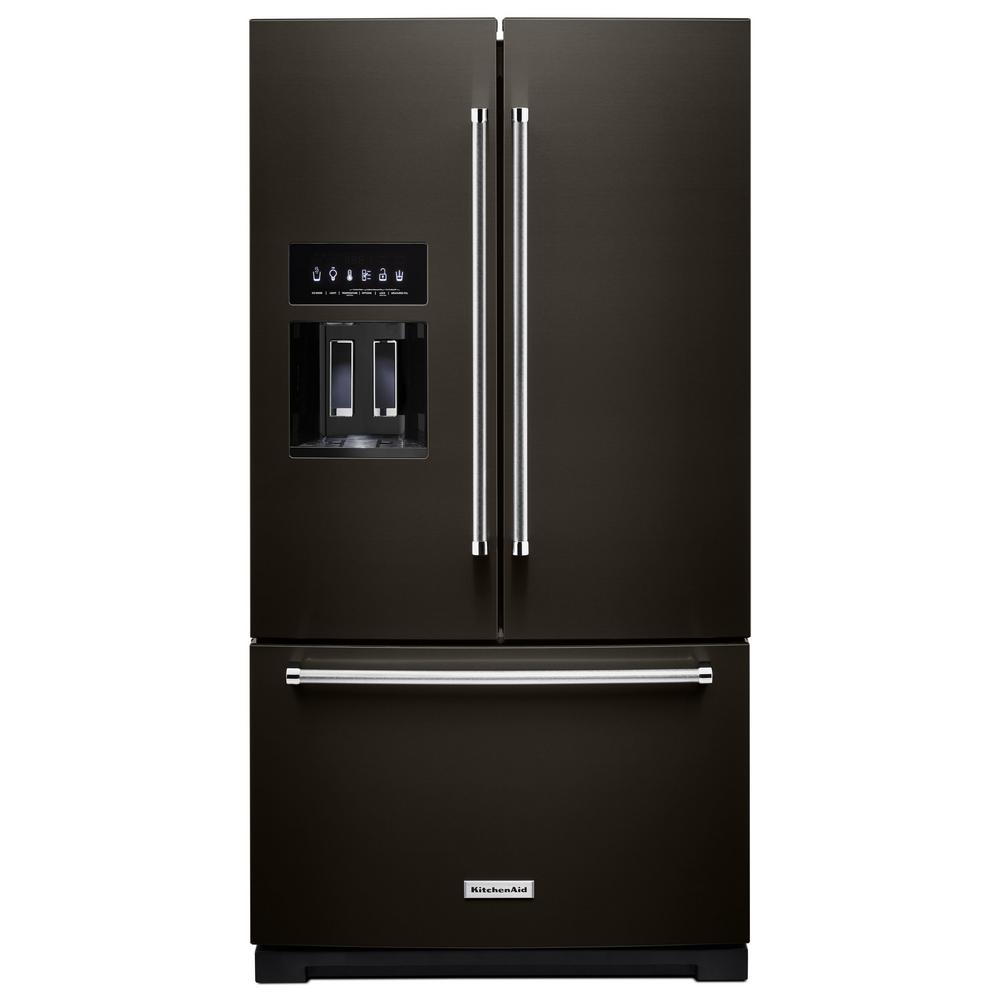 Sleek, stylish, and elegant, words fall short when describing the beauty of KitchenAid Bottom Freezer Refrigerator. However, it's not just the gorgeous PrintShield Black Stainless exterior that catches the eye, but the interior also has a perfect arrangement of shelves, drawers, and trays.
True to any KitchenAid refrigerator, the ExtendFresh Temperature Management System keeps food fresh for longer and the FreshChill Temperature-Controlled allows you to optimize the airflow for specific food items. There are LED lights and metallic accents that further enhance the interiors.
We are impressed by the intelligent and versatile design that allows you to retract a few shelves to make room for the taller containers. The manufacturer stands behind the product with a 5 years limited warranty on parts and labor, while there is a 10-year warranty on certain component parts.
Product features
26.8 cu ft total capacity
Made from Stainless Steel
External Electric temperature control
Sabbath Mode
Adjustable Shelves/Racks
Energy Star, UL Listed
User/ Customer reviews
People who want more storage are completely satisfied with their purchase as the refrigerator offers ample room for a lot of stuff, and some shelves may also be removed to make space for more. Users are also happy that they can store a lot of groceries and food without worrying about them going bad. A few customers feel that the fridge makes slightly more noise than expected.
Conclusion
The bottom freezer refrigerator (shop now) is a perfect example of functionality that meets grace – a great combination of ample storage space and great looks. If you have a large family, and often indulge in buying extra groceries that last through a week or month, this model is certainly the way to go. Totally recommended
---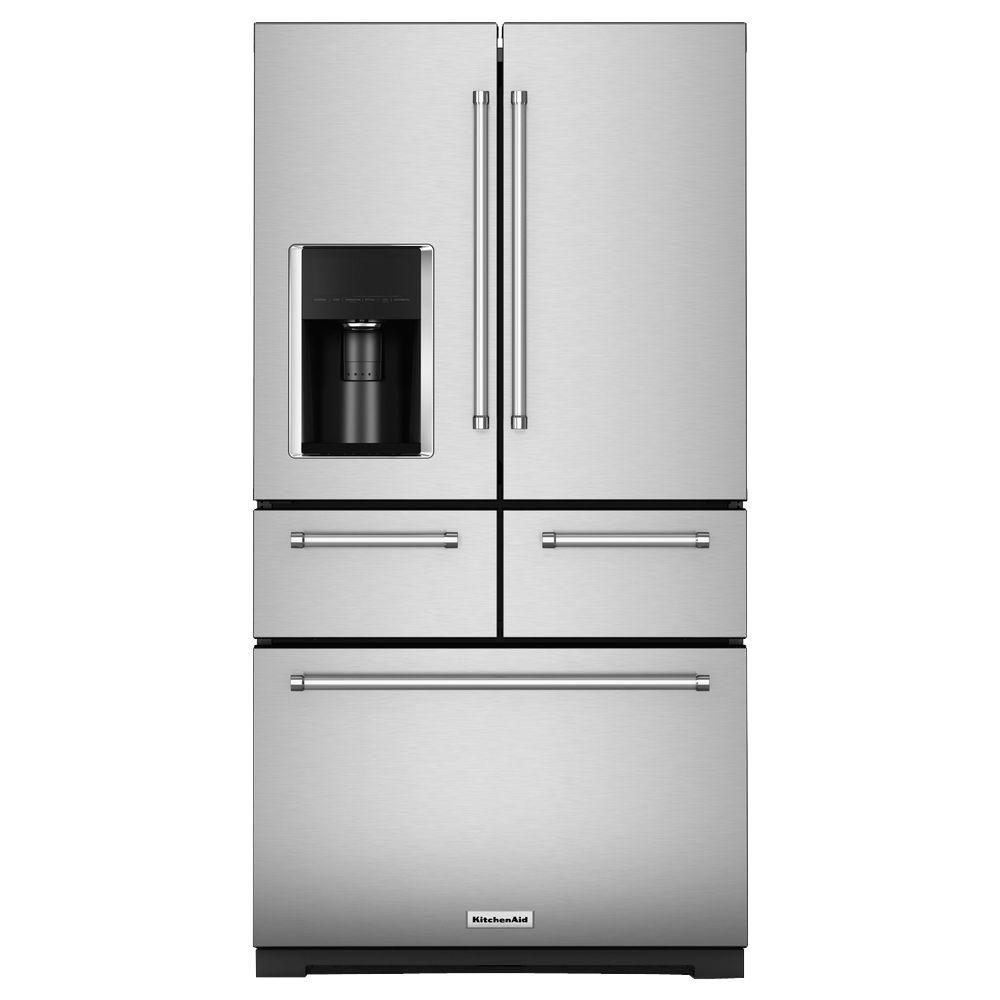 When you want a complete cool storage solution for your large family, check out the KitchenAid 25.8 cu. ft. French Door Refrigerator. Made from sturdy stainless steel material, this unique and versatile refrigerator features 5 doors, two drawers, and a 3-tier freezer drawer.
The refrigerator comes equipped with Preserva Food Care System that uses two cooling systems to retain the freshness and texture of foods for longer. There is an exterior ice and water dispenser that dispenses fresh filtered water and ice through the door.
Shelves are adjustable and spill-resistant with nano-etched edges to help you clean with ease and prevent any messes from spilling to other areas of the refrigerator. The platinum interior and LED lighting give more elegance and grace to the interiors.
Product features
Weighs 406 lb
Stainless Steel
LED lighting
SatinGlide Crispers
In-Door-Ice system
On-dispenser touch-activated controls
Adjustable spill-resistant shelves
Users/ Customers
People are thoroughly impressed with the stylish and elegant appearance of this stainless steel refrigerator and its capacity to dispense ice and water so easily. Users have also mentioned how spacious, organized, and well lighted the interior section is. A few customers have warned that the stainless exterior gets scratches easily.
Conclusion
If you want your kitchen to look regal and plus then consider the KitchenAid 25.8 cu. ft. French Door Refrigerator that adds an aura of elegance to the interiors. With ample storage space and food care technology, the refrigerator is a perfect solution for large families. Overall, it offers a good bang for your bucks.
---
Kitchenaid Refrigerators: Things To Consider
When you are choosing a refrigerator to cater to the needs of your family, you need to find that perfect combination of practicality and passion. If you have your heart set on something, only to find out later that the specs and features don't need your requirements then it's an unfruitful deal.
All the products mentioned above are handpicked after thorough reviewing and analysis. However, we suggest that you consider the following things to ensure that you pick that perfect model that fits your needs.
Double-Door Action
Some models come with a shallow door set built into the main door to give you quick access to items like drinks and condiments without having to open the door frequently. Look for the Kitchenaid model that lets you dispense ice and cold water without dropping the temperature of the refrigerator.
Adjustable shelves
Every KitchenAid refrigerator comes with adjustable shelves, but the number of them may vary. So, depending on the storage needs of your home, look for the model that gives you enough flexibility when storing extra or tall items.
Sensors
While a door alarm when the fridge is left open accidentally is a common feature found in most models, some others come with various other sensors. Some KitchenAid refrigerators come with sensors to adjust the temperature to prevent the food from going bad.
Printshield finish
If you want a refrigerator that will make your guests go wow then we suggest that you check out the model that comes with a remarkable Printshield finish. It doesn't leave fingerprints on the surface when you touch the door or handle.
Touch controls
The high-end models of KitchenAid come with touch controls that allow you to adjust a variety of things such as humidity and temperature. These settings can be done from a single touch-pad control panel.
Warranty
When buying any appliance, it is extremely important to check the warranty and most of the KitchenAid models come with one year limited warranty. However, we suggest that you check the product details to find the extra warranty of parts.
Price
Let's not forget that KitchenAid refrigerators do not come cheap as this is a premium brand. The models may typically range between $1,500 and 2,000 for a basic or compact unit. Some of the top of the line models may cost as much as $10,000.
Related Questions
How long do KitchenAid refrigerators last
The average life expectancy of a refrigerator from the KitchenAid family is between 14 and 17 years. With good care and maintenance, you can easily achieve more years of service.
See more: How Long Does A KitchenAid Refrigerator Last?
Can I repair a KitchenAid refrigerator
Yes, you can easily find KitchenAid parts and accessories online to repair or fix the refrigerator in case of any failure.
What's the interior capacity
The inner capacity of a KitchenAid refrigerator depends on the type of model you choose. The ones with drawer options or compact under-counter have less than 5 cubic feet of space, but the larger models may have a capacity of 30 cubic feet.
What is a counter-depth refrigerator
The counter-depth refrigerator models are known to be as deep as the standard countertops. If you choose to position the refrigerator next to the countertop, or place it in a gap between the two lengths of a counter, the unit will give you a built-in look.
See Also:
5 Best KitchenAid Pasta Attachments
KitchenAid Pasta Press Vs Roller: Here's The Difference