6 Best Microwave For Visually Impaired for 2023
Technology has come a long way and made us capable of things we had never imagined, maybe a decade ago. Who could think of a microwave that would talk or be compatible with Alexa, or have advanced features to help those who can't see cook their favorite meals independently.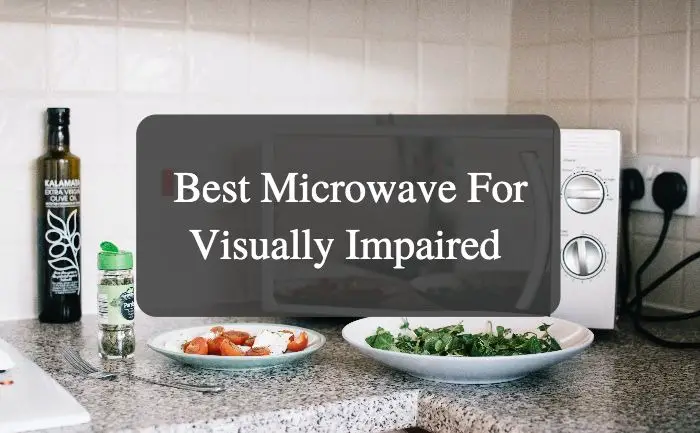 We are lucky to belong to a generation that has a wide range of talking home appliances that are extremely useful for those who are blind by birth, or those who have lost their eyesight partially or fully due to a disease accident, age, or medical condition.
The buttons are specially designed to help them identify and use efficiently. So, if you are looking for the best microwave for visually impaired, you have come to the right place. Our team has reviewed and compared almost every product in the market to help you make the right decision.
We have based our review on the ease of use, features, compatibility, and of course real customer reviews. If you don't have time to read this until the end, we suggest that you choose the MaxiAids Talking Microwave Oven (learn more) because it talks to you with clear voice announcements and has basic functions too.
Here's a beautifully designed microwave oven that comes with talking functions to enhance its usability and accessibility in the kitchen. It is specially built for the blind, visually impaired or anyone who is seeking a greater level of convenience. As you turn on the appliance, it talks to you with timely announcements for setting cook time, current power level, running cook-time, remaining time, finish call and so on.
The MaxiAids oven has a strong male voice which makes the appliance clearly heard no matter where you are. The user can adjust the speech volume as per his liking. The oven has a good  1.1 cubic feet capacity and 1000 Watts power, with four different power levels for various types of cooking. The push-button door lets the user know whether or not the door is properly closed. The manufacturer stands behind the product with a year warranty on parts and labor.
Product features and specifications
Measures 20.2 x 12 x 16.7 inches
Weighs 31.8 lbs.
4 power levels
1.1 cubic feet capacity
1000 Watts
8 Volume Levels
Voice prompts
User/ Customer reviews
Those who have bought the product for their visually impaired family members have said that it worked like a dream, giving them their much needed confidence to work independently. People are happy that the voice prompts are clear and if there's any mistake the user can go back and reset the hours and minutes.
A few users have said that the buttons are not raised enough but this can be fixed by adding a little Velcro on the buttons that the most frequently used.
Conclusion
This MaxiAids talking microwave oven is powerful and the features are easy to adjust in order to provide optimum performance. Although slightly more expensive than its counterparts, the kind of confidence and independence it gives to the visually impaired is worth it.
---
Don't let visual impairment rob you of the joy of baking and cooking your favorite delicacies. The Breville is a perfectly designed countertop microwave with carefully selected features to ensure simple and basic operation for the senior citizens and those who have vision impairments. The oven has a capacity of 0.6 cubic feet and comes with a 9.65-inch turntable.
With six different power levels, this microwave oven is suitable for a wide range of cooking tasks. The 30-minute timer works like a safety feature to ensure that the user does not log in a longer cooking time by mistake. We also like the simple mechanical dial controls that make it easy for people to adjust the settings.
Product features and specifications
Measures 19.5 x 15 x 12 inches
Weighs 25.9 pounds
9.65-inch turntable size
Countertop design
30-minute timer
6 cooking power levels
Mechanical dial controls
120V 0.6 Cubic Feet
700-Watts
Countertop Microwave Oven
User/ Customer reviews
People are happy to find this microwave oven with a mechanical knob which is much user friendly than pressing button, for those with vision impairment. The simple functions and safety features used in the product make it perfect for people of all ages. A few users have mentioned that the oven came in with a really bad stinking smell but it went away after some time.
Conclusion
If you are looking to buy an easy-to-use microwave oven for someone in the family who is visually impaired, then the Breville CM0674K fits the bill perfectly. The safety functions prevent any accidents and different cooking levels help in making several dishes successfully.
---
If you are looking for a basic kitchen countertop microwave oven for performing simple functions like heating up food leftovers, preparing snacks, and preparing food then check out this product by Commercial Chef. It sports a strong and durable construction, with a compact design to ensure that it does not take a lot of space. The handle is easy to grasp in order to open or close the door.
Features like defrost, 6 power settings, low maintenance make the Commercial Chef oven suitable for multiple uses in the kitchen. With a capacity of 0.6 cubic feet, the oven is capable of cooking enough food for two or a small family. It does a good job for making food in small quantities. Besides being a perfectly suitable appliance for the visually impaired, it is also perfect for people living in dorms, studios, and small apartments.
Product features and specifications
Measures 17.75 x 12.50 x 10.25 inches
Weighs 23.1 pounds
Made from 18-8 Steel
0.6 Cubic Feet Oven
600 Watt power
1 to 30 minutes
Six cooking power levels
User/ Customer reviews
Both the senior citizens and the visually impaired love this microwave oven because it's so easy to use with just one knob for handling power and the other to set time. People also like the compact size that does not take a lot of counterpace but heats up a dinner plate quickly. A few users have also said that they found it easy to use the product with a solar grid.
Conclusion
This Commercial Chef microwave oven is just what you need to perform basic reheating, defrosting, and preparing food functions with safety and convenience. At this price, it is not only affordable but a well-designed product for those with vision impairment.
---
Home appliances are getting smart to save time and make cooking more enjoyable, but one of their biggest benefits is for those who are visually impaired. Such individuals can take advantage of microwave ovens that are compatible with Alexa to listen to your voice commands and perform the basic functions. Whether you want to defrost vegetables, cook potatoes, or reheat food, the quick-cook voice presets to make cooking easy and fun.
The compact size of the TOSHIBA Smart Countertop Microwave oven saves counter space and there are ten power levels, child lock, and kitchen timer to meet the requirements of different customers. You will need to get an Echo device separately to use the quick-cook voice presets and voice control features. Once you install the Alexa app, you don't need to get up from the seat to cook popcorn or reheat a cup of coffee.
Product features and specifications
Measures 17.3" x 10.1" x 14.1"
Weighs 21.9 lb
Cavity size of 0.7 cu. ft.
2.4 GHz only, 802.11 b/g/n Wifi
Voice controlled features
1 year limited warranty
10 power levels
Ask Alexa button
700 Watt
User/ Customer reviews
With basic functions but cool Alexa integration most customers find this microwave oven useful for performing a lot of cooking tasks with just voice commands. Users have said that the setup and installation is easy, and the product brings a lot of comfort to the lives of people with vision impairment. Some customers have warned that the oven is very small in size and may not be suitable for those looking for more cooking functions.
Conclusion
Compatibility with Echo and being able to communicate with the smart oven with Alexa is a great feature. While we think this can help the blind and those who are visually impaired enjoy cooking their favorite dishes without much help, we also feel that this product is a great choice for people living in small apartments or dorms.
---
This small countertop microwave oven comes from the house of Commercial Chef and does a decent job at heating leftovers from dinner. It also comes in handy during food preparation as it can thaw frozen food and do a lot of other stuff.
Due to its simple operation using mechanical rotary dial controls, we feel the basic operation is perfectly suited for the elderly and disabled. Those who are visually impaired can feel the dial knob and hear the sound to determine the controls and heating temperature.
The microwave oven comes with simple speed and weight defrost features that enable multiple uses in the kitchen. We are also impressed by the strong and durable construction matched with a black front display. It is compact enough to sit at a corner of the kitchen without taking too much space.
Product features and specifications
Measures 17.75 x 12.5 x 10.25 inches
Weighs 23.1 pounds
600 watts of cooking power
6 cubic foot interior
Six power levels
Re-heat food or defrost veggies
Mechanical dial controls
Soften butter or chocolate
User/ Customer reviews
Most users have said that it consumes 950 watts and the output power is 600 watts but it works fine both on-grid and off-grid. Users have mentioned that the microwave oven does a wonderful job at reheating or defrosting food, and it's small enough to carry in your van. A few customers are not happy with the high power consumption.
Conclusion
This is a sturdy and well-designed countertop microwave oven that does not come with fancy features but does what it is required to do. The elderly and the visually impaired can use the appliance easily, plus it does not eat up a lot of space in the kitchen. At this price, the Commercial Chef CHM660B (see Amazon) gives you good value for money.
---
This Commercial Chef CHMH900B6C (learn more) is a stylish and elegant countertop microwave oven that features an interior area of 0.9 cubic feet. It goes well with any kitchen decor and brings about a distinctive and innovative cooking capacity in minimalist design to fit your available space.
With six different power levels, the appliance offers a customized cooking experience to prepare a variety of food such as soups, gravies, sauces, and vegetables. Besides helping you defrost, cook, and reheat food, the microwave also has the keep warm function.
Cleaning the interior is easy and does not take a lot of time, so it has low maintenance requirements. There is a 30-minute timer to keep you at the safe end in case you accidentally enter a longer cook time. The simple mechanical dials make it easier to use for those who want a basic operation, making it extremely useful for senior citizens and individuals with vision impairments.
Product Features and Specifications
Measures 13 x 21 x 17 inches
Weighs 29.3 pounds
Mechanical dial controls
30-minute timer
Easy to operate
Six power levels
Low maintenance
User/ Customer reviews
Many customers who have bought the product for their family members with poor vision have said that it is extremely useful. People find the egg-timer style knobs easy to operate even with limited finger dexterity. Several customers have also appreciated that fact it has a 30-minute time limit that reduces any overcooking accidents
Conclusion
This is a sleek and compact countertop microwave (see price) that sports a decent interior space capacity to help you cook a variety of foods. The mechanical dials make the operation simple and easy, while the sturdy construction makes it a wise investment for your kitchen. Overall, we feel that it offers an impressive price to performance ratio. 
---
Related Questions
Are there any useful kitchen apps for people who can't see?
Yes, there are apps like the KNFB Reader and Be My Eyes that can read out packaging labels and recipes from magazines. It can also help the visually impaired get connected with slighted helpers live video chat for kitchen assistance.
Related Article: How to Set up a Smart Home with Alexa – Beginner's Guide
What other kitchen items can be helpful?
We suggest that you invest in talking kitchen tools as much as possible,  non-stick frying pans, timers, silicone baking tins, special microwave ovens instead of the stove, and broad-bladed knives. Keep the kitchen space uncluttered and take advantage of online grocery shopping.
Related Article: What Are Smart Home Devices For Seniors? (Useful Guide)