Bissell Crosswave 1785w vs 1785a (Here's The Difference)
Keeping your home clean is certainly not an option but a necessity for healthy and safe living. Vacuum cleaners make it much easier and effective to handle this regular cleaning chore. Bissell Crosswave, introduced in 2016 is one of the most efficient cleaning appliances that mops and vacuums at the same time.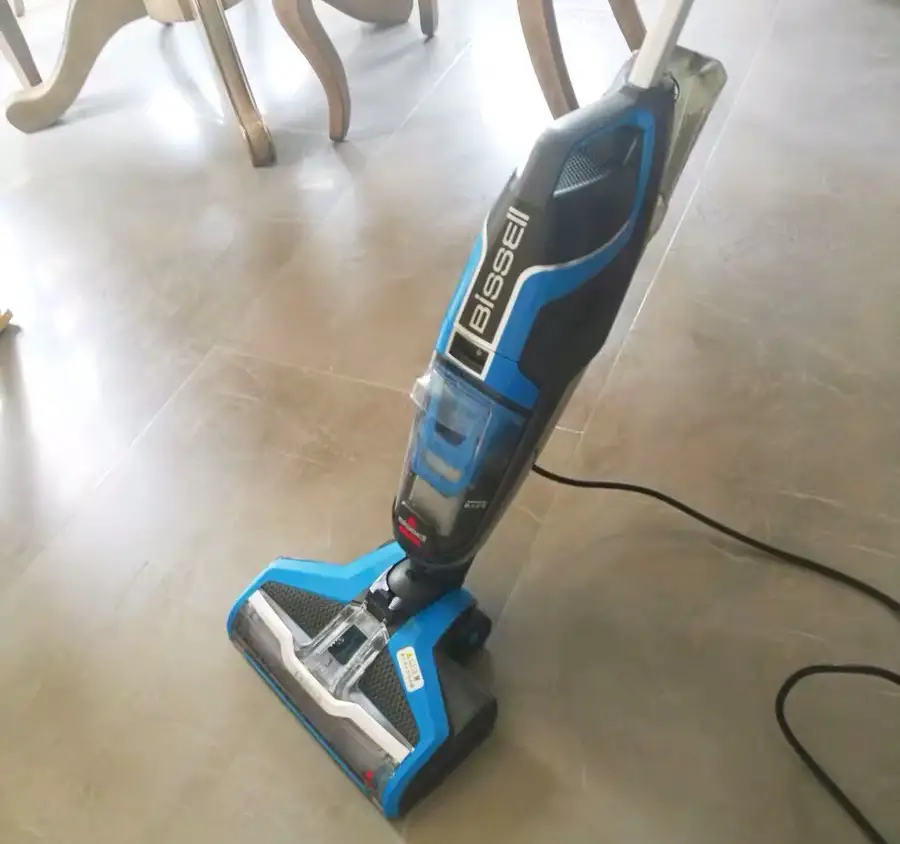 So, if you are planning to buy a Bissell Crosswave, you have taken a great decision as the machine is capable of vacuuming, washing and drying the floor by simply switching modes. Besides its superior wet and dry floor cleaning mechanism, it is also capable of working on multiple floor types using a digital touch control panel.
The Bissell Crosswave vacuum not only comes with a strong suction capacity that cleans dust, dirt, and grime on the floor, but can also be used on rugs, sealed wood, and vino floors. From revitalizing your old rugs and carpets to making your hard floors look like new, these machines has you covered.
However, most buyers tend to get confused on whether to get a Bissell Crosswave 1785w or 1785a, so we have drawn a comparison between the two to help you out. While both these models deliver a spec-free, stains-free cleaning performance, it's those little differences that make them unique.
Read on to find about the difference between both these Bissell Crosswave models, along with our in-depth review of both products to help you get a better understanding of both. Also, don't forget to check out the frequently asked questions at the end.
Bissell Crosswave 1785w vs 1785a
Both the vacuum cleaning units have a lot in common on the surface, but when you dig deeper, you can see the subtle difference that set them apart from each other. We have created a complete review of each product to give you a better idea about things that make them unique.
| | | |
| --- | --- | --- |
|   | 1785w | 1785a |
| Dimension | 27 x 10 x 14 inches | 10.5 x 12 x 46 inches |
| Weighs | 16.8 pounds | 11.02 pounds |
| Use | Wash, scrub, and vacuum in one | Wash and vacuum in one |
| Power | 4.4 Amps | 4.4 Amps |
| Tank | 28 oz. | 28 oz. |
| Cord | 25 ft cord | 25 ft cord |
| Floor | Multiple flooring types | Multiple flooring types |
| Warranty | 2-years limited warranty | 2-years limited warranty |
---
The Red Dot Design award-winning Bissell CrossWave All-in-One cleaning system stands out from the crowd with its multi-surface adaptability, plus the ability to vacuum, wet mop, and dry all at once. It comes with two cleaning modes that can be used for hard flooring or carpet.
The pivoting floorhead offers good maneuverability and comes with a large nylon brushbar and microfiber capable of handling stubborn dirt. We love the smart design that allows users to clean the brushbar without removing it from the main floor head.
Equipped with a 25 ft. cable, the vacuum cleaner provides good cleaning flexibility, and the cable wrap at the back offers easy storage facility. Speaking about performance, the Bissell CrossWave can get rid of mud, food crumbs, and pet hair, leaving your floors shining like new.
Product features and specifications
Measures 27 x 10 x 14 inches
Weighs 16.8 pounds
2-tank system
Brush rotates at 3000 RPM
Swivel steering
Dual-action brush roll
Integrated carrying handle
Easy-remove brush window
User/ Customer reviews
Pet owners and people with small kids are extremely elated with their purchase as the machine is capable of cleaning bird poop, pet droppings, and baby messes from the floor. Users are not only happy with how clean their floor looks, but also the ease of use and low maintenance of the product. A few customers have said that they wished it was capable of covering more square foot area.
Conclusion
This All-in-One Multi-Surface Cleaner, 1785W is well-built with sufficient vacuuming power to efficiently suck up any liquid spills or debris. It can also clean different types of floors with equal ease and serves as an all-rounder for houses that have mixed flooring. Overall, we feel that anyone looking for versatility will find this cleaning system hard to beat. 
---
This Floor and Carpet Cleaner with Wet-Dry Vacuum – 1785A promises to liberate you from the burden of having to use two different appliances for vacuuming and washing the floor. As this is a dual-action multi-surface machine, it works well on both sealed floors and carpets and area rugs.
The floorhead features a brush roll comprising of a nylon brush and microfiber to pick up the dry debris and wash the surface at the same time. We are impressed to see that the two-tank system keeps the dirty water and cleaning solution separate to ensure that you always have a fresh cleaning solution.
The appliance comes with smart touch controls on the handle to let you switch between area rugs and hard floors with ease. In terms of performance, we were happy to find that the machine was able to absorb food or liquid on the floor, pet dander, and tiny particles.
 Product features and specifications
Measures 10.5 x 12 x 46 inches
Weighs 11.02 pounds
Corded Electric appliance
Brush rotates at 3000 RPM
Two Tank System
Smart Touch Controls
Dual Action Multi-Surface Brush Roll
2-years manufacturer warranty
User/ Customer reviews
People find this appliance extremely well-built and well-engineered, capable of handling a lot of dust and dirt in a family with many members and even pets. Some people are surprised at the amount of dirt extracted from their seemingly clean floors. Many customers also feel that the unit is very easy to use and requires less maintenance after work is completed.
Conclusion
The Bissell Crosswave 1785A (shop now) is indeed a revolutionary wet-dry vacuum cleaner that sports a contemporarily designed sleek exterior and equipped with innovative technology. With the gentle action of the brush, it promises to leave your hard floors and rugs perfectly clean. Backed with a 2-year limited warranty, this is a fantastic investment you will love to make.
---
Who Should Buy Bissell Crosswave 1785w
If you have mixed flooring or have carpeting at your home, this model vacuum can be a good option for you as it can handle all types of sealed hardwood and rugs with ease. The smart touch controls make it so easy to operate that even the senior citizens living alone can learn how to use it. Features like dual tank systems keep clean and dirty water separate for the hygienic conscious people.
The ergonomic handle makes it convenient to use the vacuum for cleaning hard to reach places without having to bend too much. There's a bag change indicator that tells you when the bag is full, and the water level indicator shows when you need to change the water. However, if you are someone who needs to do a lot of cleaning this might not be suitable as the solution tank only carries as much liquid to clean up to 700 sq ft of floor.
Who Should Buy Bissell Crosswave 1785a
The 1785a comes with a low-profile head that can reach under the table and hard to reach areas with ease. People who find it tough to work with a heavier unit and complain of wrist strain will be happy using this comparatively low weight device. At the touch of a button, the mode can be switched from hard floor cleaning to rugs, so this is a good advantage for people with multiple floor types.
People with large houses will find it more convenient to use as the power cable extends to 25 feet allowing you to cover a large area. We also like the unique swivel steering that makes sharp turns and helps users to clean under the table or hard to reach areas easily. As you clean, the floor head covers a 12″ cleaning path width, which is impressive.
Frequently Asked Questions
Q: Can it be used on granite floors?
Granite is a porous material hence you should be careful when wet washing using a vacuum cleaner. Bissell Crosswave does not leave a lot of moisture behind while cleaning hence you can safely use it on granite flooring. However, if you use vinegar or lemon as a homemade cleaning solution, you should never use it on granite or risk damaging it.
The one to-die-for feature of Bissell Crosswave is that get complete control over the amount of cleaning solution you use. So, when you are cleaning hardwood or granite floor, use the trigger control to decide how much cleaning solution is enough. Similarly, when cleaning carpets or rugs, adjust the cleaning solution to ensure there is less moisture.
Q: Can this be used on vinyl flooring
If you have vinyl flooring at home then Bissell CrossWave is the top pick by professionals. This cleaning system has all the features you require to keep the damage of the floor free and spotless. It also streamlines the cleaning process and lets you work around with ease. The biggest advantage is that you get to perform both vacuum and mop tasks in one pass rather than doing it separately.
Q: Can this be used on hardwood floors?
Yes, both the Bissell CrossWave1785a and 1785w can be safely used on hardwood flooring to leave it spec-free and stain free. Even though the price factor is slightly higher than other vacuum products in the market, the convenience of doing dry and wet cleaning using one appliance places it high above the competition.
Q: Can you use your own solution
The Bissell Crosswave models typically come with their own multi-surface cleaning solution that can be used for cleaning tile floors, laminate floors, and area rugs. Despite that, you can also use your own homemade solution if you prefer it more than the store-bought ones. Here are some of the solutions that you can use:
Mix two cups of distilled water with a minimum of 2 tablespoon of castile soap and 15 drops of essential oil of your choice of flavor. Shake gently and use it as your cleaning solution.
For stubborn stains and dirt, mix 2 tablespoons of baking soda and 1 tablespoon of liquid castile soap with 1.5 cups of water to make an easy to use a cleaning solution.
To use a vinegar solution, we suggest that you mix one cup of distilled water and one cup of white distilled water with half of a lemon and 15 drops of essential oils.
So, while it is recommended to use the Bissell CrossWave cleaner solution with the appliances, it's perfectly fine to use the above solutions. However, make sure not to use vinegar or lemon solution on marble or granite flooring.
Final Verdict
After thoroughly reviewing both Bissell CrossWave 1785w and 1785a, we find that there's a thin line of difference between the two. Based on that, our pick is Bissell CrossWave 1785a as it is comparatively lighter to hold, hence convenient to work around a large house.
The 1785a is also more compact in design than the 1785w, hence easier to store. In terms of performance also, we feel that the 1785a is slightly ahead of its sibling, and maintenance requirements are less.  While we agree that preferences may differ from customer to customer, our vote goes to Bissell CrossWave 1785a
See Also:
Can You Leave Pool Vacuum In Pool
8 Best Vacuums For Jute Rugs
6 Best Vacuums For Rabbit Hay
How To Take Apart A Dirt Devil Vacuum Cleaner
4 Best Handheld Vacuums For Pool Tables