Have you ever come across a diesel engine with a different brand label under the hood of a John Deere tractor? Do you suspect that the engine looks like a Kawasaki, Yanmar, or Briggs ; Stratton with just a John Deere logo stuck onto it? You may be wondering, then, if John Deere outsources its engines form other engine manufacturers, and if it does, where it gets them from and how much they outsource compared to manufacturing engines in-house.  
Who makes John Deere tractor engines? John Deere now mostly manufactures its own diesel engines, especially for commercial-grade or large agricultural tractors, but it does have a history of outsourcing. Some of their tractor engines are also manufactured by Kawasaki, Kohler, Yanmar, and Briggs ; Stratton (B ; S).
So yes, in short, John Deere does not always make their own engines – they also outsource!
About John Deere engines
John Deere is a world accredited US-based company that manufactures agricultural and construction machinery, drivetrains, diesel engines, as well as household lawn mowers, lawn tractors and pressure washers.
The company has been around since 1837 and started designing and manufacturing their own diesel engines in 1949. Since then they have produced many innovative, high-quality series of diesel engines that can be serviced at 4000+ locations across the world. As a rough estimate, they have now manufactured more than 5 million diesel engines!
Their diesel engines are made not only in the US (Waterloo) but also in other countries like India, France, Mexico and Argentina.
John Deere is one of the leading heavy machinery brands in the world and its engines are some of the best performers with regards to their power, efficiency and durability. The company logo appropriately has a deer on it and their tagline is "Nothing runs like a Deere"!
Who else makes John Deere tractor engines?
Although, John Deere is a leading diesel engine manufacturer and makes its own engines for all of its large, commercial-scale agricultural tractors, some of its small-scale tractors and lawn mowers also use engines from other manufacturers, especially those manufactured overseas.
Their compact and sub-compact tractors often have diesel engines made by Yanmar. Yanmar actually manufactured tractors for John Deere for almost 30 years! Yes, not just the engine, but the entire tractors were built by Yanmar for many years.
Although most John Deere tractors are now powered by their own engines, the company has extensively out-sourced in the past and many of the John Deere compact tractors you will find will have a Yanmar diesel engine under the hood.
John Deere lawnmower tractors still frequently use engines by Kawasaki and Briggs ; Stratton (B;S).
Although John Deere doesn't own any of these companies, the engines it outsources from them are tailor-made to John Deere's specifications and then branded with the John Deere logo.
Premium price for lesser quality?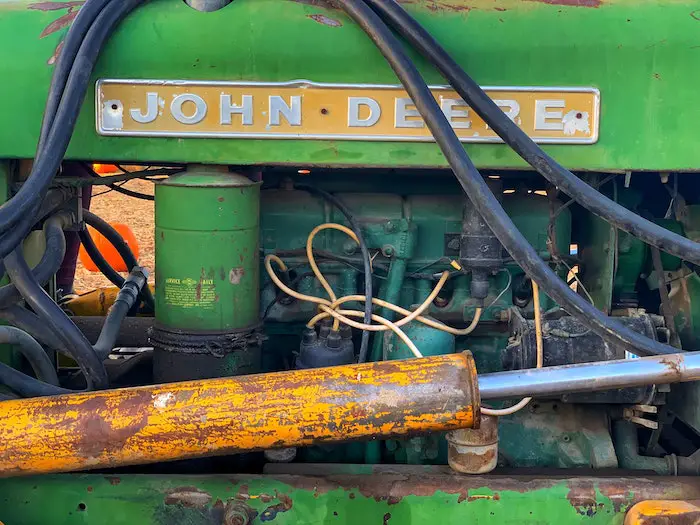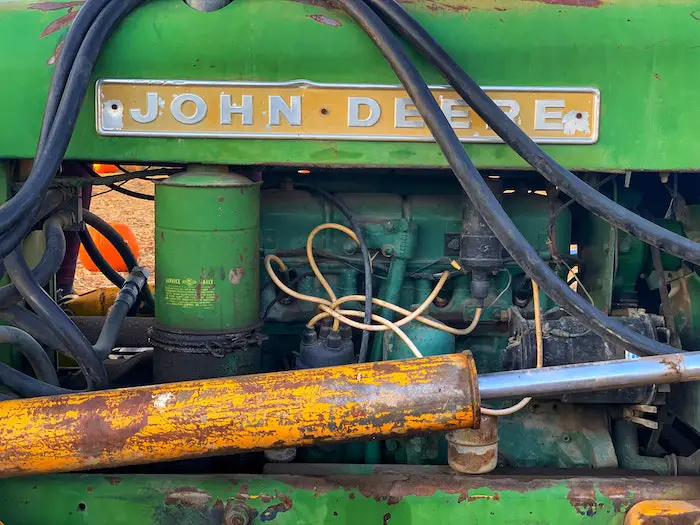 The reservation that a lot of people have with John Deere putting other brands' engines and "cheaper" machinery in their lawn tractors is that their quality may not be as good as a real Deere engine. Some worry about their engines breaking down sooner and also think that they are better off buying a tractor from another maker which is more affordable instead of buying a John Deere and having to pay the premium price for the name without even getting an original Deere engine.
Some people also believe that this is just a smart business move by John Deere for making more money, as they use cheaper engines and parts from other makers, add their name to them, and then sell them at absurdly high prices.
The other downside is that although the engines are made by manufacturers like Briggs ; Stratton, John Deere adds their own special modifications to them so that users cannot replace the engine in their tractor with any other standard engine. A user will always have to buy from John Deere and keep paying the high prices even for replacements, making them costly in the long run, too.
John Deere also has agreements with their manufacturers which state that they cannot sell John Deere parts to customers directly. So a customer has only one option, and that is to order from John Deere and pay the extra for the brand name.
However, users cannot make any serious claims because there is no fraud or underhanded move being made by John Deere in this endeavor, as the manufacturers they work with produce standard, good-quality products that are specifically built according to John Deere specs, and they are not secretive about this outsourcing either. The engines made by Yanmar or Briggs for John Deere are also marketed openly as such.
Most notably, their commercial machines are completely John Deere-manufactured from head to toe, with original John Deere diesel engines.
Related Questions
Are John Deere mowers made by MTD?
A couple of sources do say that low-end, small-scale John Deere tractors for home use are made by MTD.
Which is better John Deere or Husqvarna?
Most people vote for John Deere because their tractors offer more reliability and durability, therefore reducing costs for maintenance and repairs in the long run. This comes at the cost of a higher initial price, though. Husqvarna lawn tractors have a wider blade and they also deliver more horsepower for a lower price, but their expected maintenance costs are high.
See Also: 8 Best Riding Lawn Mowers For Steep Hills
Which is better John Deere or Cub Cadet?
Again, John Deere is more expensive than Cub Cadet. However, John Deere comes out as the winner in terms of reliability and also does slightly better in performance tests. Brand reliability does matter and says a lot about user experience, too. Among users, John Deere has always been the most reliable choice and so it is the better option (albeit at a higher price).
See Also:
How Long Do John Deere Lawn Tractors Last
Can Lawn Mower Get Wet
8 Best Riding Lawn Mowers For Steep Hills