Electricity goes into almost everything, from the home lightings to the heating/ cooling system. So when I started looking for ways to cut down my monthly expenses, the electricity bill appeared like the biggest mountain to conquer. It is amazing how smart devices can help in saving so much energy and money over a period of time.
You don't really need to make a big investment to start saving on your electricity bill. Small changes like installing a smart gadget to turn dumb appliances smarter can create a big difference. You can further turn your house into a smart home by installing a centralized hub (Google Home or Amazon Echo) to voice-control the devices.
In this post, I have listed 11 smart tech updates that do not cost a lot but they can save you hundreds of dollars on your utility bills. The biggest perk? You can install them on your own without any technical knowledge, so let's get started!
1. Energy Monitoring System To Cut Back On Unnecessary Expense
The first step to cutting down on utility bills is to monitor how energy is consumed in the house and an energy monitoring system makes it easier to keep a tap on energy use with your mobile app. You just need to install a smart device like the CURB Home Energy Monitoring System (See Amazon).
This gadget just needs to be attached to the electrical panel of your house and you are done. It will send detailed, real-time data of energy consumption for each device straight to your phone. If you are serious about reducing your utility bill, an energy monitoring system can be your best guide.
2. Smart Switch: Save Money With Motion Sensors
Small things like leaving the lights on when there is no one in the room add up to energy wastage, resulting in higher utility bills. This can be avoided by simply installing a smart switch and one of the products I find useful is the GE Z-Wave Plus Motion Dimmer Switch(see Amazon).
What I like best about the smart switch is that it comes with vacancy/ occupancy sensors which detect motion or lack of it inside the house, and turns the light on or off accordingly. It is compatible with Z-Wave smart home hubs like Samsung SmartThings, Honeywell, Wink, and Harmony. You may also voice-control it by asking Alexa to turn the switch on/ off.
No more walking into a dark house and tumbling to find the switches. You can switch on the lights using app remotely from anywhere to create an illusion of occupancy to keep intruders away.
3. Smart Thermostat: Keep Warm Without Raising Your Pressure!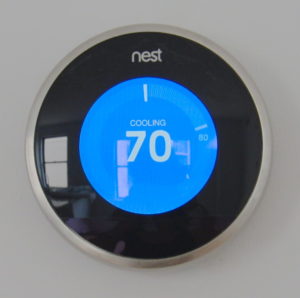 As the mercury goes down, I am sure all of you start looking for ways to keep your house warm but the hike in energy bills is enough to make your pressure levels soar high too. Why pay high bills when you can control it by installing a smart gadget called Nest Learning Thermostat.
What I have realized after installing a smart thermostat is that I no more have to worry about making temperature adjustments as it adjusts by itself. I also do not have to worry about forgetting to switch off the thermostat as I can control it using my app.
The extra sensors easily manage the hot and cold spots and heat the house uniformly. I love the convenience of adding the smart thermostat to the home hub (Google Assistant, Amazon Alexa, or Samsung SmartThings) to control the device with voice.
4. Smart LED Light Bulbs To Boost Your Savings
I personally prefer LED lights over others because they last longer and consume less energy compared to others. You can take things a step further by installing smart LED lights from brands like Philips. The Hue collection, for example, offers smart LED lights that can be controlled remotely and dimmed to lower energy consumption.
What's more? Just like me, you can connect your smart LED bulbs with your smart hub to make it work with Siri or Alexa. A useful tip is to stick to one smart LED bulb brand and make sure that brand is compatible with your smart hub.
5. Smart Window and Door Sensors For Enhanced Security
 Keeping home safe is a top priority, isn't it? I have realized that people often forget to close all windows when leaving for work or the door downstairs may be ajar when there's no one in there to keep an eye. The smart window and door sensors are life-saving solutions for busy people and those living in large houses.
Many smart devices are battery operated, and also my favorite is that the device alerts you if a door or window is left open accidentally to let the cooling or heating escape.
6. Smart Sprinkler Controller To Cut Down Your Water Bill
When watering your plants or the lawn, it is difficult to decide how much is enough and this slowly adds up to your monthly water expenses. With a smart sprinkler controller, like one offered by Rachio, you can now cut your water expenses by half.
The device is smart for a reason. It takes into account weather data and information to decide how much water is needed for the yard. So, if the forecast says it is going to rain, the controller will minimize the water use to prevent wastage.
7. LED Night Light Bulb That Promotes Sleep
Have difficulty sleeping or staying asleep? I have long battled sleep problems and nothing really worked until I found this LED night bulb by Lighting Science. Since I have installed this in my bedroom, it helps me lull into a deep sleep in just 15 minutes and I wake up feeling refreshed.
This biological LED sleep light aids the natural melatonin production in the body. The hormone is useful to induce a good night's sleep. The light curbs the blue light waves that hinder melatonin production. It also supports a healthy circadian rhythm to help you fall asleep faster and stay asleep longer.
8. Smart Motion Sensors To Prevent Energy Wastage
Saving on energy bills should not be limited to home, but businesses too. Large facilities that use several lights, heating and cooling systems to keep occupants comfortable can save big time with gadgets like the smart motion sensors from the house of Phillips.
With the smart device, you can be more in control of the lights, heating/ cooling systems in the conference rooms, utility areas, and supply closets. The intelligent motion detectors can tell when a room is occupied or empty. It can automatically turn on/ off the lights and adjust the temperate to make things comfortable and prevent wastage of energy.
9. Smart Plug To Track Power Usage
Turn your dumb appliances smart by installing smart plugs that can be controlled using your tablet or smartphone from anywhere in the house. I find the Wi-Fi Smart Plug by Wemo extremely useful to track the energy consumed by different appliances. This helps you control the usage to save money on utility bills.
What I like best about smart plugs is that you can connect them to your coffee maker, washing machine, or even Christmas lights to voice-control the devices with Alexa. You can also set custom schedules for different appliances. For example, you can schedule your coffee maker to start automatically at 6 am.
10. Smart Blinds That Get Activated To Keep You Cool
Getting direct sunlight into the house may be good but if it stays for long, it can heat up space and make your cooling system work harder. Wouldn't it be great to install smart blinds that automatically close when it gets hot?
I find the MySmartBlinds Automation Kit extremely useful as it has everything I need for my smart home. It is compatible with Alexa and Siri so you can give voice commands to open/ close the blinds. The built-in sensors enable the blinds to control the temperature and lighting inside the house. It is also app-controlled so you can schedule the blinds to close automatically when it is evening.
11. A Smart Ceiling Fan That Exceeds Expectations
Yes, you heard that right! There is a smart ceiling fan too and it has the power to cool four times more than our regular fan. It exceeds the energy star efficiency by 450 percent and the best part is that it is compatible with Alexa.
Check out the Haiku Home Series fan that comes with built-in Wi-Fi, LED lamp, and several other features to make your life easier. You can control it with the remote, mobile app, or simply give voice commands to turn on/ off.
Tips For Building A Smart Home
Installing the right appliances that are compatible with your smart hub and listen to your commands is the first step to building a smart home. Here are some useful tips to help you:
Start small with a smart bulb or two, and take time to get used to the technology. There is always a learning curve and you need to go through it before you become a master at it.
You can install most appliances but if you hire a technician to do it, make sure he has enough experience with handling smart devices.
Don't exceed your spending limit when building a smart home. It is easy to get addicted to the frenzy of buying smart appliances. Go slow and buy one thing at a time to slowly build up a complete smart haven.
Tips To Cut Back On Electricity Bill In Summer
Come summer and the air conditioners go on full blast to keep the soaring temperatures down. No wonder, it consumes a lot of energy resulting in high utility bills at the end of the month. Here are some tips to help you cut back on the electric bill in summer.
Instead of using the air conditioners throughout the day, switch it off when the house is cool and use ceiling fans instead. Keep the blinds and drapes closed to keep out the sun and prevent your house from getting too hot.
Invest in a smart thermostat during summer so that the air conditioner adjusts the temperature as required. You can also schedule the cooling system to switch off when you are not at home.
Tips To Cut Back On Electric Bill In Winter
The utility bill during winter months primarily includes heating solutions. However, there are ways to prevent your electricity bill from skyrocketing.
Make your home ready for the winter by ensuring that the attic has proper insulation, ventilation and air sealing to prevent cold weather seeping inside the house.
Consider installing a window film insulator that can seal the gaps in the window frame to prevent air from passing through these gaps. This can create a huge difference in keeping your house naturally warm and reducing the pressure on your heating systems.
Water heaters are one of the significant winter appliances that consume a lot of energy. Set the heater at 120 degrees to keep a check on your electric bill.
When going on vacation, make sure you turn off the gas heaters and electric heaters, as you will not need them for some days. If you forget to switch the smart appliances off, you can remote control them using your app to turn them off while you are away.
Tips To Reduce The Gas Bill
The gas bill is directly dependent on the way you use your heating solutions so controlling that can significantly bring down your gas bill.
You may consider using a smart thermostat to cut down on your gas usage. It allows you to pre-set the temperature for your heating system so that the heater does not keep running on a high temperature while you are sleeping.
Tips To Reduce The Water Bill
A large part of the world population does not have access to safe and clean water, so it makes sense to save water and be thankful for what we have. Making small changes can bring about a big difference.
You can start by replacing the shower heads with low-flow heads to reduce the water flowing through it every minute. Also, remember to close the faucet when you are shaving, washing your face or brushing your teeth.
If you use a washing machine and dishwasher, replace them with energy star certified appliances that consume less energy. You can still enjoy the modern convenience without wasting energy.
Final Words
Energy is life and we need to conserve it for our future generations. By conserving energy, I do not mean limiting our resources but saving energy in every walk of life. By making our appliances smarter, we can derive optimum results with less power usage.
Smart devices not only add convenience to our lives but also help in reducing our carbon footprint. Apart from significantly cutting down our electricity bills and helping us save money, they let us do our little part' for saving the world's energy resources. And, as they say, these small efforts that come together to create a BIG difference!