9 Tools for Indian Cooking for 2023: Must Read!
The rich aroma of freshly ground whole spices, smoking red hot chutney, tadka over cooked lentils, kebabs, idlis, dosas, sambhar, kheer, and more—Indian cuisine is so diverse and varied that I could go on and on. However, today, I am here to tell you about the essential tools you'll need for Indian cooking.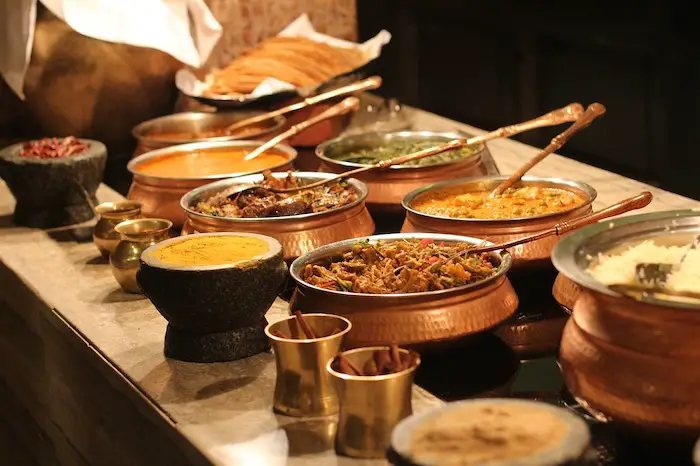 Whether you are someone who's new to cooking or you had an awesome Indian lunch at a friend's house and wish to enjoy the same flavors in your kitchen, too, you are in the right place.
I have created a list of a few of the tools that come in handy to help you produce the same aroma and flavors you enjoy at an Indian friend's home or at any Indian restaurant. Grab a cup of masala tea and read on to find out more about the culinary tools to make your favorite food available right in your own home.
#1. Cookware
Chakla Belan
If you would love to roll out thin rotis, chapattis, puris, and parathas in your kitchen, you need the perfect Indian rolling pin and board, called a belan and a chakla respectively. These are thinner and lighter than their American counterparts and typically made of wood.
Tawa for Cooking Rotis/Parathas/Dosas
A good quality tawa made of cast iron or aluminum, or even one with non-stick coating, is an absolute essential for an Indian kitchen. These are round, slightly concave pans used for cooking thin and fluffy rotis. You can also have separate ones specifically for cooking rotis and dosas, preferably non-stick and a flatter version of a tawa for the best results.
Chimta (Tongs)
When you make rotis and chapattis on the tawa, you will also need a pair of tongs to give them flared tips and their traditional taste and texture. You need a pair of tongs to hold them over an open flame for a few seconds to get the perfect char.
Kadhai (Cast-Iron or Stainless-Steel Pot)
If you would like to make puris, pakoras, and spicy samosas at home, you need a deep fry pan or pot for cooking, and a kadhai is just that. These usually have a flat bottom and deep sides to let you deep fry foods to make them perfectly brown and crispy. You may also get a regular wok; however, remember that a pot with shallow sides may result in uneven cooking.
Stew Pot for Biryani/Pulav
No celebrations in India are complete without a varied assortment of rice dishes such as pulav, biryani, and other classic favorites. The stew pots available to make these dishes come in a wide range of materials such as hard anodized, ceramic, and non-stick. This means you can choose what best suits your needs.
For those who are new to cooking, we would suggest going with the non-stick pots, as they are easier to handle and clean. However, the price may be slightly on the higher side for these. I personally love the hard anodized cookware as it tends to be reasonably priced and made of very long-lasting material.
You may also want to check out the "cook-n-serve" bowls that assist in spreading the heat evenly, and these also retain the heat and keep your food warm for longer periods of time. They are designed for convenient cooking and also look great when served on the dining table.
Tadka Pan
If you want that signature Indian aroma in all your dishes, it's worth investing in a tadka pan. These are small, deep, nonstick pans with long handles. You can add a little amount of oil to one and put in the whole spices when the oil is hot to be able to sprinkle this delicious mixture over cooked lentils, curries, and other preparations for an authentic and irreplaceable flavor.
Pressure Cooker
This modern tool for cooking can actually save you a lot of time and cook in minutes that would otherwise take hours. So, for all those who are pressed for time yet would like to savor or treat guests with an Indian spread, get a pressure cooker. You can use this one appliance for cooking rice, vegetables, meaty curries, lentil soup, and more.
Idli Maker
These white, fluffy, savory South Indian rice and lentil delights are enjoyed with coconut chutney and sambhar. You need a sturdy stainless steel idli maker to make a quick and delicious Indian breakfast, though. The sambhar can be prepared in a cooker, and the chutney can be prepared by using a mixer grinder.
Tandoori Pot
Most people in the West think that 'tandoori' means a blend of a special type of Indian spices. However, this actually refers to a style of cooking in which meat is coated in marinade and then cooked in a cylindrical, vertically shaped clay pot known as a tandoor. This cooks the meat at a high temperature and manages to give it a super char.
#2. Cooking Ladle Set
Now that we are done with the cookware itself, let's talk about the special ladle set (see Amazon) you need for a variety of Indian dishes. To start with, you will need a flat spoon or slotted spoon to mix and serve rice items like pulao, biryani, halwa, and other meals. Flat spoons also come in handy for making dosas.
You will need a jhaara for the deep-fried foods, so you can properly pick food out of the kadhai. Additionally, you will also need a special spoon for serving dal (lentil soup), curries, and more. You should also have a wooden ladle as one of your non-stick cooking utensils.
#3. Air Purifiers
While cooking Indian dishes in your kitchen may be fun, you may not like that whiff lingering in every corner of your home. Plus, not every member of the family or your guests may find that aroma pleasant, so consider investing in a good air purifier that can quickly remove the spicy aroma and flavors to keep your indoor air smelling fresh and crisp.
#4. Instant Pots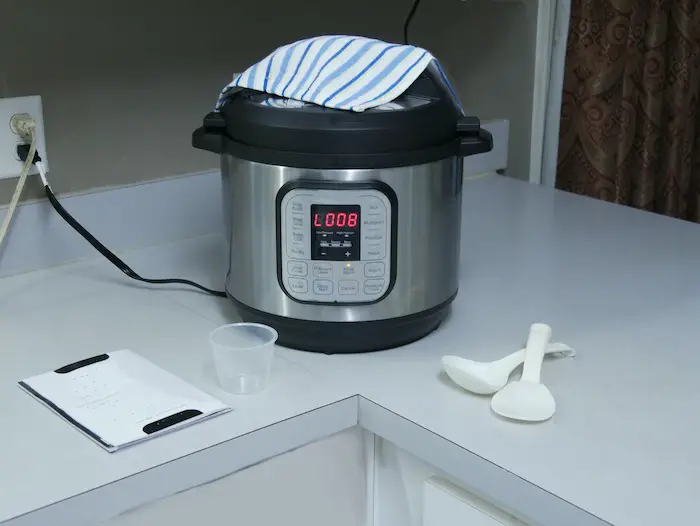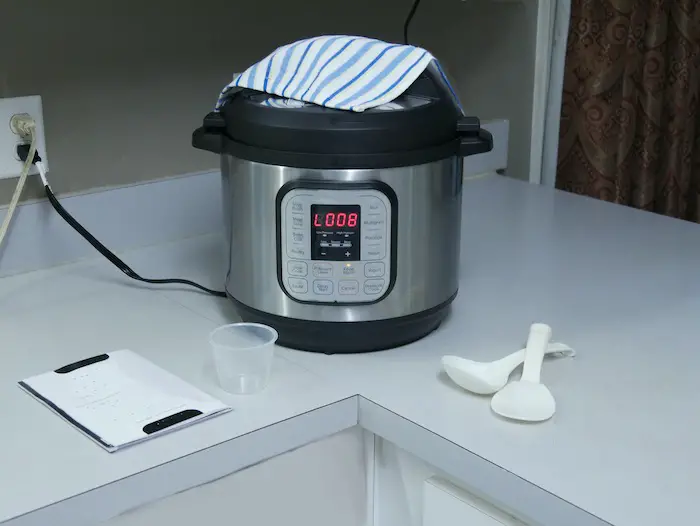 If you would love to enjoy a full spread of Indian food for lunch or dinner but do not want to invest in the different types of cookware needed to prepare the dishes, choose a quick Instant Pot. Some of them can actually serve as a pressure cooker, slow cooker, rice maker, steamer, curry maker, warmer, and yogurt maker all rolled into one.
#5. Dishwashers
Indian cooking means there will be an overwhelmingly strong smell of spices attached to the utensils you use to cook the food. The plates and bowls will also have a lot of grease on them. Hence, you need a good quality dishwasher capable of getting rid of the smells and cutting through the stubborn grease layers. There are special models suited for washing pressure cookers and kadhai as well.
#6. Air Fryers
If you thought Indian cuisine was too rich and oily for you to enjoy,  we have good news for you. Health-conscious Indians prefer using air fryers to cook traditional dishes, and this is rapidly becoming a useful kitchen gadget in Indian homes. They can be used for baking, frying, roasting, and cooking samosas, banana chips, fish tikka, chicken tikka, and other Indian delicacies while using 95% less oil.
#7. Mixer Grinders
As you know, Indian delicacies rely heavily on the numerous blends of different types of whole spices. For these, you need a handy spice mixer to quickly pummel your fresh and whole spices into powder. This can add authentic flavor and aroma to dishes like chicken tikka masala.
If you would like to prepare your spices the more authentic way, you may want to consider investing in a mortar and pestle. This is a much-used kitchen tool you can see in rural and urban kitchens in India and gives spices a significant amount of flavor that grinders cannot match.
Then, of course, there are mixer grinders that are specially designed for creating dosa batter, blends, and other mixes that are commonly used in Indian kitchens around the world.
#8. Range Hoods
If you are a fan of Indian cooking, you will need to invest in range hoods that are capable of filtering out the strong odor from your kitchen. We suggest looking for a model with a high-CFM option to make sure the air inside your home is always crisp and clean.
#9. Miscellaneous Kitchen Tools
Apart from the ones mentioned above, you will also need some additional must-have tools for Indian cooking. These include a good knife set to cut and chop all your vegetables and other ingredients, a colander or strainer/sieve, a potato masher, a lemon squeezer, a tea strainer, and a box for keeping an assortment of spices,
Related Questions
What are the best Indian dishes for beginners?
If you are new to cooking Indian dishes, we would recommend that you start with something easy and simple to cook. Some easy dishes are kheer made with rice, milk, and sugar; aloo matar using potatoes and peas; or egg bhurji using eggs, spices, and onions.
Is Indian food too spicy for westerners?
While spices are more common and strong in Indian cooking, spiced food does not mean that all of the food will be too spicy. There are some dishes that may have plenty of heat, but you can also find several entrees to suit the tastes of those who cannot stand a lot of spice. The advantage of preparing Indian food at home is that you can adjust the amount of spices used to suit your palate.