If your mind is set on Vitamix for your next high-quality blender, then you are on the right track conforming to the needs of healthy living. However, you may find yourself irked by having to choose between two great options:  the Vitamix e320 and the Vitamix 7500.
Investing in a high-end blender requires you to shell out a good amount of money, so you would want to try to avoid making the wrong choice and regretting it later. Interestingly, both of these powerful appliances also have some really significant differences as well as a number of similarities that may only make your choice tougher.
We understand that you may be too busy with other things in your life to take the time to look into the nitty-gritty of the product specifications to get the real picture of how both of these products could best work for you. Hence, we have made your job easier by putting together an unbiased review of both blenders, along with a comparison of the two.
If you don't have the time to read this to the very end and simply wish get a clear answer to which one is the best, I'd personally say the Vitamix E320 (learn more) is your best choice. Read on to find the primary reasons for why the Vitamix E320 is a better choice than the Vitamix 7500 before we delve deeper into the two products' differences and similarities.
Vitamix E320 vs Vitamix 7500: Preliminary Differences
The first thing that catches one's attention is the exterior body of the products. On the Vitamix 7500, the body is made of plastic. The Vitamix E320, on the other hand, is made of Tritan—a better and safer alternative to plastic.
We want kitchen appliances to be as lightweight and portable as possible. The Vitamix 7500 weighs 13 lbs., but the Vitamix E320 weighs only 10.5 lbs.
The Vitamix E320's motor is more powerful than the 7500 with 2.2 hp and 1464 watts of power. The Vitamix 7500 is slightly less powerful with 2.2 hp and only 1440 watts of power by comparison.
Although the Vitamix E320 has all of the features you can find in the Vitamix 7500, the former is significantly less expensive. Thus, you can save a lot of money by choosing this particular model instead.
Additionally, the Vitamix E320 is the newer model, having been released after the Vitamix 7500, and it's common knowledge that the latest models are always better due to their upgraded features and use of the latest technology.
| | | |
| --- | --- | --- |
| Product | Vitamix E320 | Vitamix 7500 |
| Measurement | 11in. x 8in. x 18in. | 17.5in. x 7.7in. x 9.4in. |
| Weight | 10.5 lbs. | 13 lbs. |
| Power | 2.2 hp | 2.2 hp |
| Speed | 1464W | 1440W |
| Series | Explorian Series | G-Series |
| Colors | Black and red | Black, white, and red |
| Noise | Noisy | Less Noisy |
| Blade | Aircraft-grade stainless steel | Aircraft-grade stainless steel |
| Container | 64-oz low profile | 64-oz low profile |
| Self-cleaning | Yes | Yes |
| Tamper | Yes | Yes |
Differences Between the Vitamix E320 and 7500: In-Depth Analysis
Motor power
We have already mentioned above that both of these blenders come with a 2.2 hp motor. However, the Vitamix 7500 has only 1440 watts of power, whereas the Vitamix E320 (belonging to the Explorian series) sports a 1464W motor, slightly faster than the E320.
The blade in the Vitamix 7500 moves so quickly that it creates a vortex to blend all types of ingredients instantly to save you time. When it comes to the motor base, both of these blenders house a cooling fan along with a thermal protection feature that helps in maintaining the appliances' inner temperatures.
Noise level
On the noise front, the Vitamix 7500 turns out to be the winner as its motor belongs to the group of next-generation models that make 40% less noise. If you or someone in the family has sound-related issues or do not like loud noises, this is a better choice for you and your household.
As the Vitamix E320 belongs to the Explorian series, this blender makes the usual amount of noise you would expect of any regular blender. So, if noise is not an issue for you, the E320 may be more useful than the 7500 for your needs.
Programs and settings
The one thing we like a lot about these Vitamix models is that they are not complicated at all. The Vitamix E320, for example, comes with two programs as well as setting controls to add versatility to the unit. This enables the blender to carry out any function, and the 10 speed options are controlled by a speed dial.
The Vitamix 7500 comes with a speed knob and 10 different speeds to choose from as well. It also includes a pulse toggle feature that comes handy when you need to chop any ingredients. The one downside of the unit is that it does not have any pre-programmed settings, so you'll need to set up everything on your own.
Weight
A blender's weight is another important factor to consider before buying one. A bulky and heavy blender may be too difficult to move from one place to another, so if you are looking for portability, the Vitamix E320 is a better deal with just 10.5 lbs. of weight to lug.
At 13 lbs., the Vitamix 7500 is slightly on the heavier side, making it harder to move. Therefore, someone who relocates often or has trouble lifting may want to more strongly consider getting the Vitamix E320.
Colors
This difference may not mean a lot to some users, but those who are concerned about their kitchen interior and aesthetics may want to know. The Vitamix E320 is available in two standard colors: red and black.
The Vitamix 7500 units come in three exciting shades—black, white, and red—so you have more options to match your kitchen's décor if that's a priority for you. Remember that the price will likely also vary depending upon the color you choose.
Speed
There's a considerable difference in terms of maximum speed offered by these two Vitamix blenders. The E320 model sports a speed of 23,000 RPM, and the Vitamix 7500 features speeds of up to 37,000 RPM. So, if you are looking for an extremely fast working blender, you would likely do best by choosing the 7500 model. Otherwise, the E320 does a decent job.
Extra Goodies
Here's another difference that might encourage you to choose the Vitamix 7500 instead, too. If you love free goodies, the 7500 model comes with two extras to help you along: a DVD and a "Getting Started" guide. If you were to choose a Vitamix E320, you would need to get these items separately.
Both of the blenders also come with a few similar accessories by default, such as having a 64-oz low-profile container, a 2.2 hp motor base, a low-profile tamper, and a bonus cookbook to inspire you to try some new recipes.
Price
Although most of the features are common between the Vitamix E320 and the Vitamix 7500, the latter is more expensive due to a few extras. For example, the 7500 comes equipped with a next-gen series motor that makes less noise, and it also includes three color options from which you can choose as well.
With this being the case, we feel that the Vitamix E320 is more cost-effective with almost all of the same high-end features but at a comparatively lower price.
Similarities Between the Vitamix E320 and 7500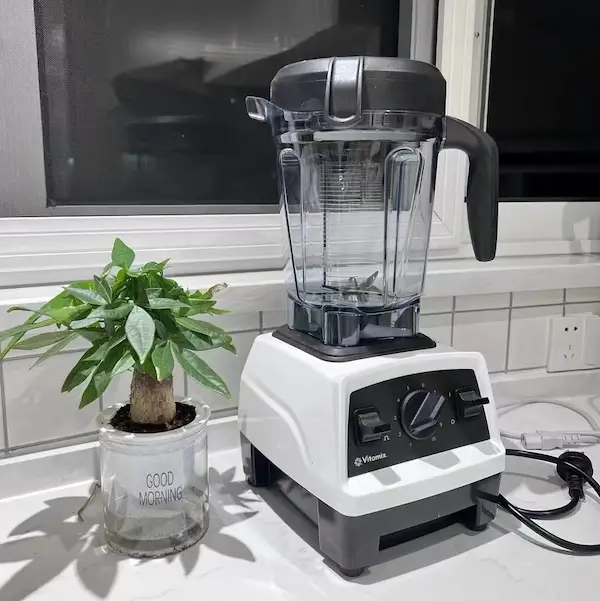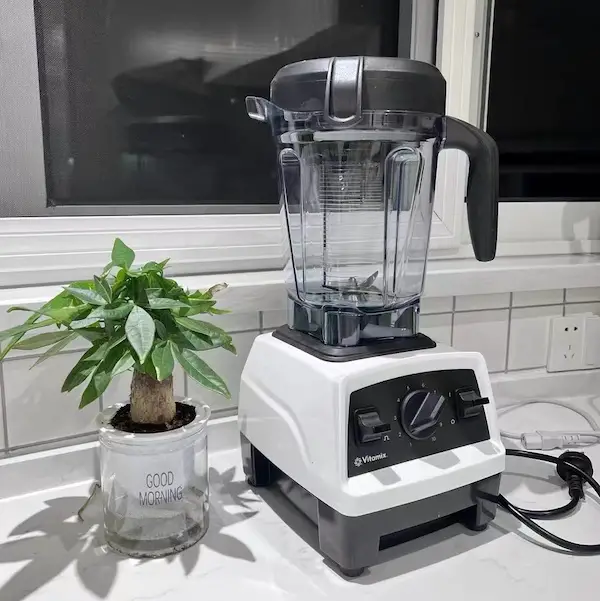 As mentioned above, despite their differences, both of these Vitamix blenders also have strong similarities that are worth considering. Let's take a look at them below.
Blades
Both of the blenders' blades are made from aircraft-grade stainless steel, making them extremely sturdy and powerful. They are capable of pulverizing tough ingredients such as ice, as well as frozen fruits and vegetables, to give you the perfect smoothie in no time.
The blades cut so fast and create so much friction that the frozen ingredients melt and become hot during the process. Besides being sturdy, the blades are also highly durable and extremely sharp, so you'll need to be careful when handling or cleaning them.
Variable speed and pulse functions
Both the Vitamix 7500 and the Vitamix E320 come with a 10-variable speed control setting to help users get the perfect texture every time. When blending different ingredients together, these settings allow you to control the speed as needed.
As the pulse function is also very powerful, you can also prepare food much quicker and save time when needing to chop or puree ingredients. This feature is meant to be used when you are in a hurry, and it easily gets the job done in a flash.
Self-cleaning
This is one of the strongest reasons behind the popularity of Vitamix blenders: they come with self-cleaning properties that take the hassle out of cleaning the appliance after every use. All you need to do is add a drop of dishwashing soap and warm water, and run the blender for 45 seconds.
After you have cleaned the blender, let it dry completely before you use it again. If you are in a hurry, dry the motor base with a dry cloth. Additionally, be sure that you clean it regularly to keep it in good condition.
Versatility
Vitamix blenders are one of the most indispensable kitchen appliances due to their versatile features. From making desserts and smoothies to helping with soups and batters, you can do so much with one of these blenders.
With a high-end blender like those made by Vitamix, you can have consistently beautiful and smooth food every time. They can also help you with chopping and grinding fruits and vegetables instead of you having to continue to do so by hand. With a blender, you can try a lot of different recipes too, such as making dough, purees, baby food, dips, milk shakes, and more.
Jar/Container
Both of these high-end blenders come with a 64-oz capacity low-profile container. Made from BPA-free plastic, these are safe for your health compared to those made from other materials. You can use these spacious containers to make large batches of smoothies or soups whenever you want. They not only fit easily in the kitchen cabinet, but they are also dishwasher-safe.
Warranty
As these Vitamix blenders are so sturdy and well-built, you can use them for several years without any issues. However, both of these units come with a 7-year full warranty, which is much more than other products in the market have to offer.
Our Review of the Vitamix E320 Explorian Blender (Red)
The Vitamix E320 belongs to the brand's Explorian series, which is known for bringing power and convenience to your kitchen. This unit comes equipped with a powerful 2.2 hp motor that can help you easily make healthy foods at home.
The 64-ounce, BPA-free Tritan container is perfect for blending medium- to large-sized batches of smoothies and soups. From appetizers and desserts to salsas and soups, the ten variable speeds and pulse features give you the capability to try out different types of recipes with success and ease.
The sharp and high-quality stainless-steel blades are designed to pulverize the hardest of ingredients to give you the perfect blends for years to come. Maintaining the blender is also easy as the Vitamix E320 can easily self-clean within just 30 to 60 seconds of time.
Product features and specifications
2.2 hp motor
64-oz. low-profile container design
BPA-free Tritan container material
10 variable speeds
Pulse feature
7-year warranty
User/Customer Reviews
People love the fact that this blender has such a low-profile stature that allows it to easily fit compactly in a small kitchen without demanding a lot of real estate. Users have also said that despite being small in size, it has a lot of power to break down the hardest of ingredients, even including nuts and frozen food.
The E320 tends to make a lot of noise while running and some people may not like that. A few users have also complained that the Vitamix models lack any safety features that can be found in other competitor brands like Ninja.
Conclusion
If you are looking for a high-quality blender with blades so sharp that it can blend anything that comes its way, then the Vitamix E320 is a great choice. If the noise is not a problem for you, we recommend that you get the E320 as it has all the features you can find in the 7500 but comes at a much more affordable price.
---
Our Review Of the Vitamix 7500 Blender
If you are the kind of person who hates to use numerous different appliances for different foods, here's a blender that's capable of doing a lot more than you would imagine. From making baby food and frozen desserts to grinding nuts and coffee beans, the Vitamix 7500 blender covers it all.
Powered by a high-performance engine and aircraft-grade stainless steel blades, this blender gives you the power to make large batches of meals in just minutes. With 10 variable speeds, you get the most refined textures and the culinary precision to make the heartiest soups and smoothest purées.
The low-profile, 64-ounce container accommodates a lot of ingredients all at once yet can easily be stored in most kitchen cabinets without taking up too much space. Just like the E320, the Vitamix7500 also has a self-cleaning function that quickly and easily gives you a clean blender in no time.
Product features and specifications
Made of plastic
64-oz. low-profile container
10 variable speed controls
Hardened stainless-steel blades
Electrical Rating: 120 V
Radial cooling fan
Thermal protection system
User/Customer Reviews
Users are absolutely thrilled with the power of the Vitamix 7500 as it pulverizes almost anything that is thrown at it to leave not even a speck of solids when desired. Customers have also said that this investment has helped them include more fruits and veggies in their diets.
People who hate loud and noisy blenders have been impressed with this unit's low-noise operation. A few users have mentioned that because this is such a powerful blender, it shakes and moves around the countertop at times, requiring you to hold it down.
Conclusion
This blender is more expensive than the Vitamix E320 and various other blenders on the market, but when you look at the features and its nearly noiseless operation, you can see why. Despite its high price, it delivers what it promises.
---
Top-Rated Functions of Both the Vitamix E320 and the Vitamix 7500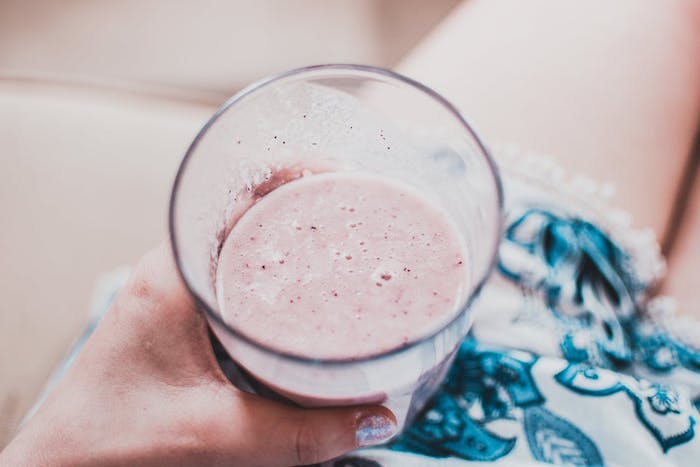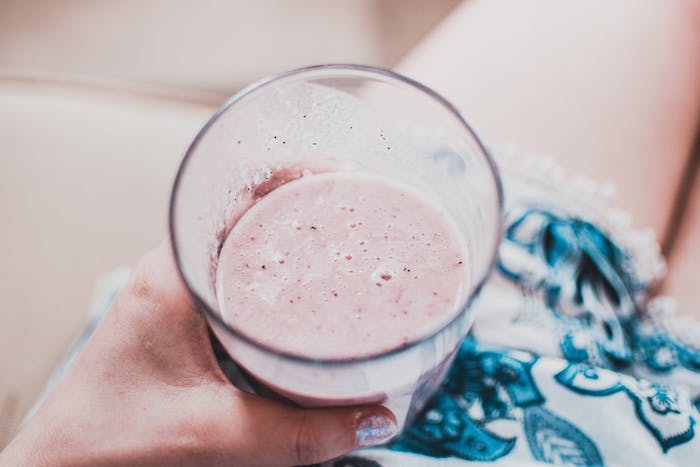 We hope that, by now, you have almost made up your mind regarding which is better of these two amazing blender options—the Vitamix E320 vs. the Vitamix 7500. To provide even further information, let's take a look at some of the functions that both of these models are capable of performing.
Pulverizes ice
Whether you want to blend some frozen veggies or fruits together or simply crush a ton of ice for a chilled drink of your choice, this blender can do it with ease. Within seconds, you can have ice cubes crushed to a snow-like texture to add to smoothies, shakes, or desserts of your choice.
Prepares smoothies
Both of these Vitamix blenders are perfect for making smoothies using the freshest fruits and veggies. The super sharp blades and high-speed motors cut through the toughest of ingredients like nuts, seeds, roots, stems, and frozen hard fruits to give you the smoothest possible drinks.
Hot soup cycles
This is another popular function of these Vitamix blenders. As the blender jar is made from durable plastic, it is capable of withstanding the high heat emitted from any hot mixtures. You can prepare soups as well as hot beverages in these blenders in just seconds. They also feature a 'hot soup cycle' that can be used to heat up liquids within seconds.
Purees food
When you want to add that perfect tang to one of your dishes with a homemade tomato puree or even do something as useful as make homemade and all-natural baby foods, a Vitamix blender serves as a great addition to your kitchen for accomplishing these tasks. This device is so easy to operate and its incredible speed can puree anything you throw its way—even nuts and other solids.
Chops fruits and veggies
Another versatile use of a Vitamix blender is that it can also be used as a chopper. These units include a pulse feature and several other speed cycles that can be used to chop different types of fruits and veggies to prepare foods like hummus and salsa.
Grinds and blends nuts
Whether you are wanting to grind roasted cocoa beans or blend some nuts together for various uses, using its powerful motor, a Vitamix blender is capable of doing these with ease. There are different speed cycles to suit the different types of ingredients, and the results are always guaranteed to be perfect. As an added bonus, you can also use these blenders to grind whole Indian spices and seeds effortlessly as well.  
The Vitamix E320 vs. The Vitamix 7500: Who is the Winner?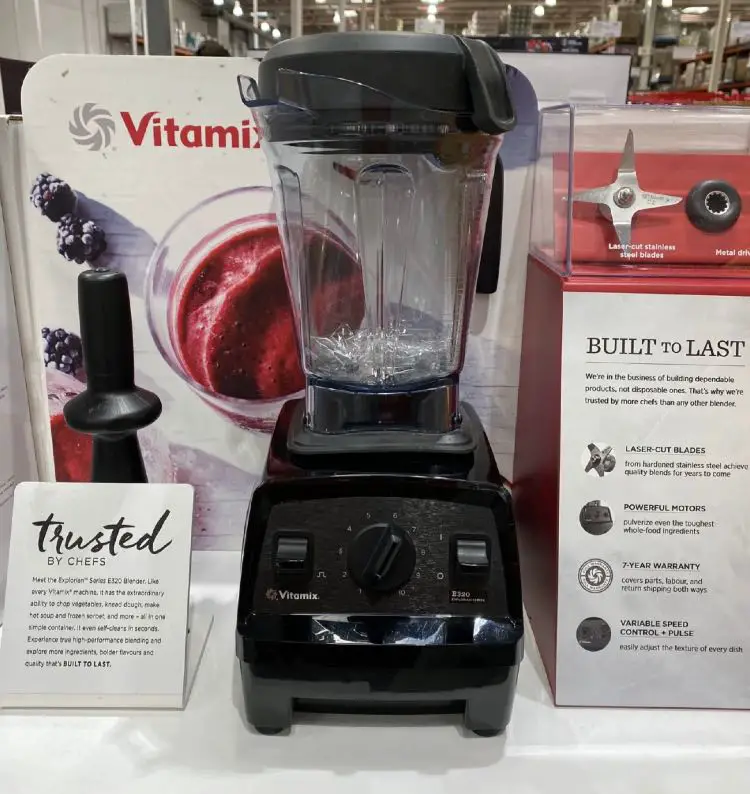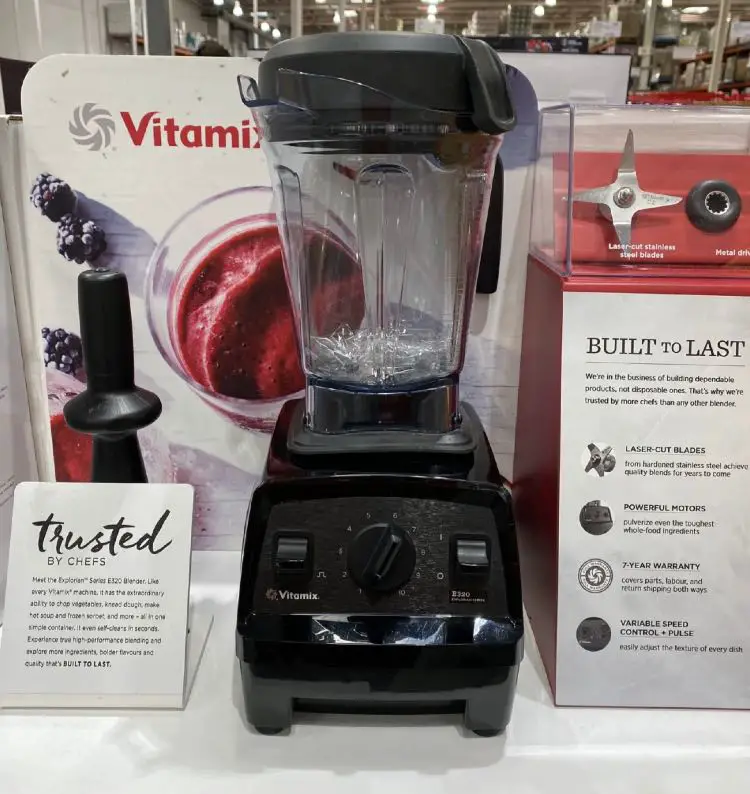 After taking a closer look at all of the aspects that differ as well as those that are similar to each other, we've come to the conclusion that both of these options are great devices in their own regard. Both come with more or less the same features as well as similar levels of performance, hence it is extremely difficult to differentiate between the two unless a potential consumer has very specific needs regarding what they want in one of these blenders.
Size is one of the most prominent differences, but this doesn't often seem to matter much to most users. The handle design is also different, but again, this has nothing to do with the products' performance. You may choose the size and design that fits better with your kitchen's décor and amount of counterspace, but that does not make one model particularly superior to the other.
If there's at all a notable difference between the two, it's when it comes to their motor speeds, wherein the 7500 takes the cake with significantly more RPMs. Besides that, another major difference also lies in the price. The Vitamix E320 is comparatively much cheaper when compared to the Vitamix 7500, although both come with almost the same features.
So, our final verdict is definitely settling on the Vitamix E320 (shop now) as it is a better and more advanced version of the Vitamix 7500. With the only difference really lying in their speeds, both deliver the same level of impressive performance, so why would you spend the additional $100?
Tips And Tricks To Add More Life To Your Vitamix Blenders
As an owner of a Vitamix blender, you will be glad that you invested in a high-quality machine. They can't last forever—nor can anything else—but with good care, they can stay with you well past the warranty period. Here are some tips and tricks that can help you add more years to your Vitamix blender.
Remember to use your Vitamix regularly
You spent a good amount of money for your Vitamix blender, so don't let it sit and rot inside your kitchen cabinet. Use it regularly to get more used to it, build good eating habits, and learn from your errors. The more you use it, the less likely you will burn the motor.
If your product ever needs any repair work, remember that the manufacturer backs it up with a 7-year warranty. The customer support is also very responsive and helpful.
Run a cleaning cycle regularly
The frequency of cleaning should depend upon how frequently you use the blender. If you are someone who uses it every morning for making breakfast, as well as using it again for lunch and dinner, you should run the cleaning cycle at least once a day. It's easy to leave the container in the sink, but believe me, it's easy to clean it, too.
Try to get into the habit of cleaning the container after each use to reduce the chances of leaks. Additionally, this is also a better food practice by ensuring optimum sanitation and hygiene. Besides the simply running the blender's cleaning cycle, you may also want to consider soaking the container in a vinegar solution to clean any build-up or stubborn marks that may appear over time.
Use the tamper when needed
One of the things that makes Vitamix blenders so unique and different from other brands is that they allow you to use a tamper on them. You may not ever use this feature if your blending needs are limited to just juices and smoothies. However, making things like nut butters and ice creams certainly require the use of a tamper.
When you use a tamper to carefully guide your ingredients to the sharp blades, this makes the blending process far more efficient. Using a tamper with your blender might feel like you are being harsh with the motor. However, this is not the case—it's actually quite the opposite! If you don't use a tamper when needed, the motor will overwork itself, and this will likely reduce its life span.
Be careful with protein powder
If you like adding protein powder to your smoothies, do it at last and run your blender for a few more seconds. By waiting until the very end, this ensures that the powder gets mixed throughout your smoothies evenly and without getting caked onto the blades. This also helps in preventing container damage and leaks.
The same rule also applied to seeds. Remember to add them at the very end or while the container is still running. This will prevent the seeds from getting stuck on the blades.
Never keep the blender's container inside the fridge or freezer
We all have probably done this at some point or other in our lives. However, did you know that you can reduce the lifespan of your blender's blades by doing so? No matter how tempting it seems, never store a half-filled container containing juice or smoothies inside of your refrigerator.
The extreme temperatures inside of the fridge or freezer can affect the bearings in the blade assembly. When needed, we suggest that you use a reusable container or Mason jar to store any leftovers.
Getting the layers right
When your new blender arrives, one of the first things that you need to check is the "Getting Started" Guide or user manual. Besides providing the basic information about the model, it will also contain instructions on how to layer the ingredients correctly for achieving the best results.
For example, if you are making a mixed smoothie, the liquids come first; then soft fruits; followed by hard fruits, leafy greens, frozen items, nuts, and seeds. When layered correctly, the motor works more efficiently without the blade grabbing something nor harder ingredients getting pulled in by gravity.
Don't avoid using the top speed
Some people have a misconception that they can save their blender some effort by not running it on its top speed. However, this is not true because your machine is designed in a way to run most effectively on its variable speed of 10. By not running the unit on the topmost speed, you are not utilizing the motor to the fullest.
We suggest that you start with the lowest setting but soon crank up to the highest setting. Do not let the noise or vibrations scare you. When the blender is at its topmost speed, the thermal protection system fully activates, resulting in the machine staying cool.
Quantity matters a lot
If you are trying a Vitamix-specific recipe, don't try to cut down the ingredients by half. Remember that the container needs to meet its mandatory minimum volume of contents to function at its best. If not, fewer ingredients than this will only splutter around without getting blended.
Similarly, make sure you do not overfill ingredients in a Vitamix container either, particularly when blending hot soups and other hot items. As heat increases and releases upward inside of the container, this could even cause the lid to blow off from the top. To stay safe, hold a towel over the lid of your blender when blending hot ingredients.
Related Questions
What are the three most common issues seen in a Vitamix blender?
If you use various types of hard ingredients in the blender, you may find yourself soon dealing with a leaky container due to damage. A blown motor is the second most common issue that you can expect to see after 10 to 15 years of use. The third common suspect is likely to be a broken or worn-off drive socket.
Why is my container stained or cloudy?
If you feel that your container looks stained or cloudy, trust me, there's nothing to worry about. It happens naturally when you use leafy greens in your smoothie every day as these eventually create a thin film. To clean this off of your blender, add one cup of white vinegar and warm water, leave it overnight, and scrub it clean the next morning.
Should I get another container so I have two separate containers for wet and dry applications?
Blending coarser and harder ingredients such as granulated sugar and nuts may create tiny scratches inside the wall of the container. This creates a cloudy effect, but it does not impact the performance of the machine in any way.
If this troubles you, though, we suggest that you do get an additional container to blend your wet and dry ingredients separately.